The Current Online Sports Betting Situation in Delaware
As far as the US is concerned, Delaware is one of the best places to be if you love to gamble on sports.
You can place bets on almost any sport you can think of at any of the state's three casinos
You can wager on the Delaware lottery's special football parlays at hundreds of locations all over the state.
While there are currently no online sports betting options available in Delaware, the laws do permit it and we expect to see it rolled out in the near future.
We'll get into a more detailed history later but to understand what's happening in Delaware right now we have to go back at least a few years.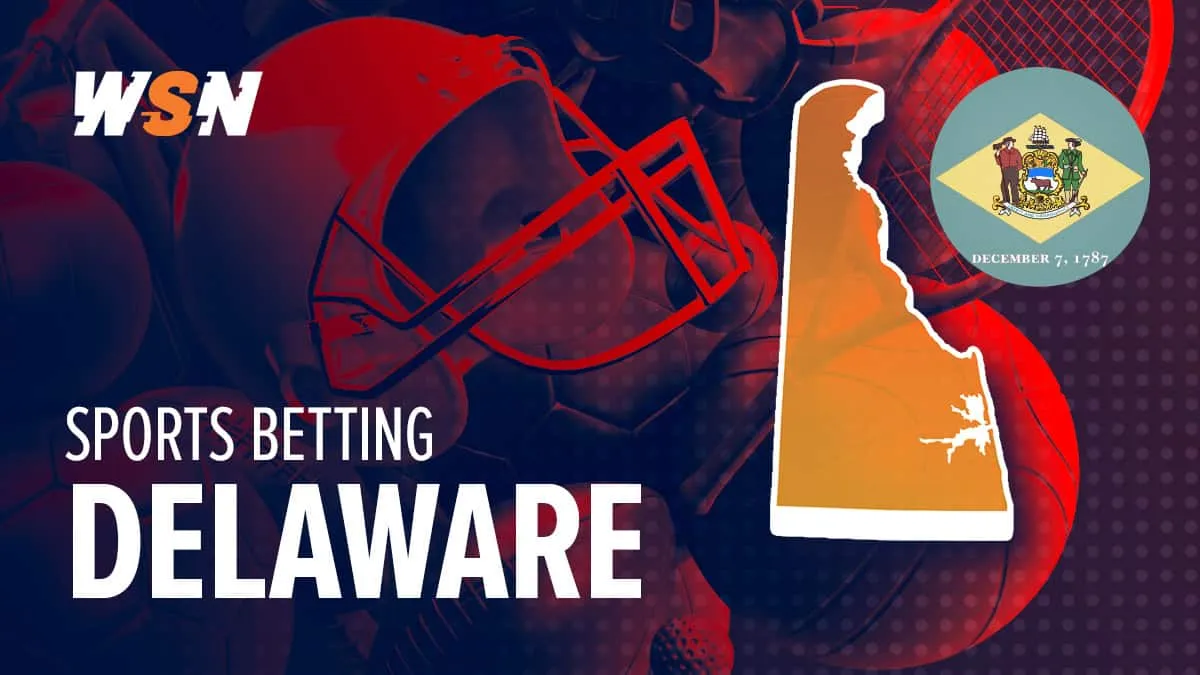 Short History of Delaware Sports Betting Laws
In 2009 Delaware Governor Jack Markell attempted to pass a bill legalizing all forms of sports betting. The bill passed but Delaware was then sued by the major sports leagues to stop it from offering legalized sports betting.
The Delaware Supreme Court found in Delaware's favor but, unfortunately, the US Circuit Court did not, citing the 1992 Professional and Amateur Sports Protection Act (PASPA) that made most forms of sports betting illegal everywhere except Nevada.
While the 2009 Delaware bill was not enacted, it was never officially repealed either.
Fast forward a few years to 2012 and New Jersey was having a similar problem with its efforts to legalize sports gambling. New Jersey eventually took the matter all the way to the Supreme Court, stating that PASPA was unconstitutional and that the federal government should not be able to legislate each state's sports betting industries.
Behind the scenes, as early as 2017, Delaware Governor John Carney was preparing Delaware's old, never repealed sports betting bill in case PASPA was struck down.
The 2009 bill was pushed through Congress on June 5th, 2018, not even one month after United States Congress officially canned PASPA.
The announcement was made on May 31st, 2018, and by 1:30 pm on June 5th, 2018, sports betting was officially legal in Delaware.
Governor John Carney placed the first legal bet on the State on that day. As a life-long Philadelphia Phillies fan, he placed a $10 bet on the Phillies to beat the Chicago Cubs at +200. He won the bet and earned a cool $20.
Early Revenue from Delaware Sports Betting
It didn't take long for casinos and betting outlets to start raking in the dough after sports betting was legalized in the state.
When the NFL season began in September 2018, it had a huge impact on Delaware's betting numbers.
Between August 27th and September 30th, nearly $17 million was wagered on sports in the state ($16,830,101 to be exact). That was more than double the previous month, which saw $7.7 million wagered on sports. Suffice to say that the NFL is a big draw in Delaware.
What About Online Sports Betting in Delaware?
So we know that Delaware is ahead of most of the US, but what about the online sports betting situation?
The good news is that online gambling is already legal in Delaware. The bad news is that, so far at least, no sites have been launched to make it possible.
Experts believe that Delaware is using a staged approach to its sports betting market and that online and mobile betting options will be introduced as early as 2019.
2018 Supreme Court Decision
Just in case you slept under a rock, the sports betting industry in the United States achieved a massive victory in 2018.
The Supreme Court struck down a 1992 law called the Professional and Amateur Sports Protection Act (PASPA) which previously banned sports gambling in order to "protect the integrity of the game."
With PASPA out of the way, each state is now free to make their own decisions about sports betting in their jurisdictions. Delaware, which had already had a bill to legalize sports betting at a state level, was poised to be the very first into the pool.
Detailed History of Sports Betting in Delaware
So you might notice by now that Delaware is much more progressive when it pertains to sports betting than most other states. Has it always been that way though? Find out by reading on this brief history about sports betting and gambling in Delaware.
1760: First Horse Racetrack Opens
Delaware's nickname is "The First State" and it's definitely appropriate in terms of gambling. Not only was Delaware the first state to fully legalize sports betting after the 2018 SCOTUS decision, but its gambling history also dates back to before the state or even the US was founded.
The earliest record of gambling in the region was in the town of Newark when a horse racing track was opened in 1760.
1933: Horse Racing Officially Legalized
It took 173 years following the opening of Delaware's first racetrack before betting on the races was officially legalized. Part of this was done to combat illegal gambling rings, while part of it was to generate income during the Great Depression.
1976: Delaware Passes Partial Sports Betting Law
To answer the above question, Delaware always seemed proactive in their stance on sports betting. That's shown by the passing of a bill in 1976, which allowed lotto customers to place parlay-style wagers on three NFL games at a time. The winners were only paid if all three picks were correct.
1992: Delaware Earns Partial PASPA Exemption
1992 was the start of the federal ban that took away each state's autonomy to make their own laws on sports betting. The Professional and Amateur Sports Protection Act essentially made sports betting illegal across the board but there were exemptions for states that already had some form of sports gambling in place.
Since Delaware had already offered the NFL parlay betting lottery we just mentioned, it was allowed to continue offering it even after PASPA came into effect.
2009: Delaware Expands Sports Betting Laws
The state of Delaware saw some minor changes and implementations that supported forms of gambling between 1933 and 2009. That included the legalization of bingo and video lottery machines.
However, the sports betting landscape in Delaware changed in a big way in 2009 when it attempted to expand its laws to allow betting on the outcomes of individual games, not just parlays.
Delaware Governor Jack Markell worked to push the bill through in 2009, but he did get some heavy pushback. The major pro leagues and the NCAA sued Delaware successfully, which meant only parlays on NFL games were allowed.
However, as we covered earlier, the bill was never formally repealed, which paved the way for what happened in 2018.
2018: Casinos Introduce Full Sports Betting Services
Delaware was the first state in the country to jump on the opportunity that the 2018 Supreme Court decision presented. SCOTUS repealed PASPA in May and Delaware casinos were accepting bets in June. Talk about moving fast.
Which Online Sports Betting Sites are Legal in Delaware?
Online sports betting isn't available, yet. Following the repeal of PASPA, Delaware was an early adopter of legal sports gambling but it's taking a measured approach to this fledgling industry.
Having already implemented in-person wagering at casinos, Delaware is expected to expand betting options to include online and mobile sports betting soon.
When that happens we expect the options to look similar to what we see in other US states where online sports betting is legal, like New Jersey.
Here's a quick look at the three biggest online sportsbooks that might be available in Delaware soon:
888Sport
Worldwide, 888Sport is a giant in online gaming. The company offers one of the biggest online casinos in the world, a thriving online poker room, and a full-service sportsbook. 888sports is already operating in US states where sports betting is legal so it's a good bet they're working on expanding to Delaware when laws allow it.
Fox Bet
The sports betting arm of online poker giant PokerStars, Fox Bet is also already operating in US states like New Jersey where online sports gambling is legal. Fox Bet offers a top-quality online betting experience and we expect it to grow in states like Delaware that will allow online betting in the future.
Caesars
One of the oldest sports betting companies in the world, Caesars Sportsbook former William Hill also operates a successful online casino and online poker room. Originally from Europe, Caesars has supplied betting software to various US casinos and is also operating in other states where sports betting has been made legal.
What Sports Can You Bet on Online in Delaware?
Right now there are no options for betting on sports online in Delaware but we expect that to change soon. Until then you can bet on basically any sport you can think of as long as it's in-person at any of the three casinos we mentioned before.
When online betting does arrive, we expect it to include all the same sports such as:
NFL
NBA
MLB
Golf
NHL
MMA
Soccer
CFL
e-Sports
Tennis
NCAA sports
Minor league sports
We hope that soon you'll be able to bet on the NFL and tons of other sports online using your computer, mobile phone or tablet.
Is Betting on Fantasy Sports Legal in Delaware?
Up until June 2017, when betting on sports was still illegal in Delaware, betting on fantasy sports was also illegal. As the tide started to turn towards legality for sports betting, the same thing started happening for fantasy sports too.
In fact, fantasy sports got the go-ahead in Delaware before the PAPSA law was struck down in May 2018.
Here's how Delaware ended up legalizing fantasy sports in the State.
In June 2017, Governor John Carney signed a bill that formally legalized regulated paid-entry fantasy sports. The bill meant that the big players in DFS betting, DraftKings, and FanDuel, were able to get their operations up and running in Delaware by July 2017.
Here's a statement from Tim Parilla, general counsel for DraftKings, on starting operations in Delaware.
"DraftKings is looking forward to returning to Delaware, the fourteenth state to pass fantasy sports legislation. We are extremely grateful to Governor Carney and the members of the legislature for their support, especially Representative Charles Potter and Senator David Sokola, who provided tireless leadership in bringing fantasy sports back to the First State.

Today's bill signing continues the progress DraftKings and our industry partners are making towards our ultimate goal of passing common sense fantasy sports legislation in all 50 states. Fantasy sports fans in Delaware will be able to play on DraftKings in late August, just in time to experience what we think will be the most exciting NFL season in DraftKings' history."
It is surprising to see that Delaware was only the fourteenth State to legalize fantasy sports, especially considering how progressive it's been in the sports betting world. Regardless, residents in Delaware now have the ability to bet legally on fantasy sports.
Is There No Deposit Sports Betting in Delaware?
In terms of State-hosted options, there is no deposit sports betting available in Delaware. Even though Delaware has shown a tendency to be proactive in this department, there simply aren't any legal options available for online and mobile deposit sports betting.
Like we said before, the State of Delaware has shown interest in bringing forth State-hosted legal models for online deposit sports betting.
Depending on how that unfolds, we expect to see lots of the same bonuses and promotions that are common in other legal markets, including no-deposit bonuses.
These special offers let you make real money bets without depositing or risking any of your own money. Also called "free bets" these deals are definitely worth keeping an eye out for because they offer an actual risk-free opportunity to win money.
What Is the Future of Online Sports Betting in Delaware?
With Delaware's progressive attitude towards sports betting and the legal steps they've taken so far, the future is very, very bright.
Not only was Delaware the first state to formally legalize sports betting after PASPA was repealed, but also the progressive Congress in the State was already pushing for legal sports betting for years beforehand.
Here's a brief rundown of how the State has been progressive on sports betting.
Parlay-style NFL bets have been allowed in Delaware for years.
The State pushed for legal sports betting nearly a decade before the SCOTUS decision to strike down PASPA.
Delaware became the first state to legalize sports betting after the announcement in May 2018.
The next thing we're looking for on the horizon is the introduction of online and mobile sports betting options in Delaware. This is going to be a huge step for the state since gamblers will no longer have to present themselves in person at a casino in order to place single-game bets.
The timeline on this is unclear but what happens in 2019 will be a big indicator of what's to come.
What are the Next Steps for Sports Betting in Delaware?
Here are the next steps for the future of sports betting in Delaware, although there is no guarantee if any of these things will come to fruition.
State-hosted online sports betting. At the moment, there are no State-hosted online sports betting options in Delaware. There has been some passing interest in bringing it to the State but no formal announcement has come down yet.
This goes hand-in-hand with the above, but there are also no legal options for mobile sports betting in Delaware. Along with general online wagering, mobile betting options will be a big factor in the industry's growth in years to come.
Delaware Leading Legal Sports Betting Charge
We're sure there were a couple of eyebrows raised by outsiders when it was announced that Delaware was the first state to legalize online sports betting. It's certainly not the biggest state or the first place that comes to mind when you think of sports betting.
However, for people who were already following Delaware's sports betting initiatives, it wasn't at all surprising to see it cross the finish line first for implementing sports betting legislation.
With a population of just under 1 million (961,000 as of November 2018), Delaware is already starting to see significant revenue from this new industry.
While not fully developed, Delaware has set a great example for other US states considering what action to take on sports betting laws. The state is making money and people are starting to see that a lot of the risks associated with sports gambling can be dealt with effectively and responsibly.
The next big step we're hoping to see is the introduction of online sports betting sites and sportsbooks in Delaware. When this happens, we expect action in the state to really start gaining traction.
When it does happen, make sure to check back on this page for detailed reviews of the best Delaware online sportsbooks and casinos to bet with.
Until then, keep studying sports betting strategy and put it into action at any of the three land-based casinos accepting sports bets in Delaware.