SweepSlots Casino Bonus
SweepSlots is certainly not short of bonuses. For one thing, you'll be given 10,000 Gold Coins to start you off when you sign up, along with 1,000 Sweeps Coins.
That means you can start playing right away for free, as soon as you register.
If you decide to purchase additional Gold Coins, you'll get another bonus. As well as receiving some free Sweeps Coins, your first purchase is eligible for an additional 25% boost.
SweepSlots also have daily login bonuses for all members, where you can pick up additional free Gold Coins and Sweeps Coins.
SweepSlots Casino Bonus Code
SweepSlots uses bonus codes to unlock certain offers and promotions. You can type in your bonus code when you purchase Gold Coins or in the "Finances" section of the main menu. Choose "edit favorite bonus code" and the code will remain active as long as it's applicable.
However, no bonus code is necessary in order to get your bonus.
Keep an eye out on WSN for any bonus codes for special offers on SweepSlots.
SweepSlots Loyalty Programme
As we said, there's a lot going on at SweepSlots and you'll absolutely be rewarded if you keep playing regularly and stay up to date with the latest offers.
For one thing, you'll get a bonus of some Gold Coins every single day just for logging in. You'll also get a 2.5% boost on one transaction per day, no questions asked. These promos are all available for anyone, with no code required.
You can also check out what additional promos are running on the Promotions page, including the bonus codes you can use to trigger your bonuses.
SweepSlots also hosts regular slots tournaments and leaderboards, where you can earn Coins and other bonuses. Check out upcoming events in the "Tournament" tab.
How to Register at SweepSlots
Setting up your account at SweepSlots is a breeze. There is one screen of information you need to fill out to get set up initially.
You need to be at least 18 years old to register. Here's what you're asked for:
A unique username
Password
Email address
Full name
Date of Birth
Full address
Phone number
Security question
You'll also need to type in a unique captcha code and confirm your info is all accurate and you accept the terms and conditions.
The sign-up process at SweepSlots is actually a little longer than at some other social casinos, including the addition of security questions. This is a positive in our book: it shows that SweepSlots cares about its members and is going the extra mile to verify identities and keep security high.
Still, the process is very fast and simple, and should only take a couple of minutes to complete.
How to Get Sweeps Coins
It's impossible to purchase Sweeps Coins at SweepSlots. Instead, they can only be received as a free bonus, and there are a couple of ways to get them.
For one, you'll get 100 Sweeps Coins for free every day, as part of your daily login bonus. You'll also receive 1,000 Gold Coins the same way.
You can also write to SweepSlots by physical mail to request additional Sweeps Coins. The address you'll need is Sweepstakes Entry, Regal Technologies, LLC, 16192 Coastal Hwy, Lewes, DE 19958.
We recommend checking with customer support in advance to check exactly what info you need to include in your mail, but it's normally your name, address, and phone number.
Finally, you can receive Sweeps Coins as a free bonus when you purchase Gold Coins. $10 will get you 10,000 Gold Coins and a free 1,000 Sweeps Coins.
SweepSlots Software
From a software perspective, SweepSlots is definitely one of the most impressive sweepstakes casinos out there. It's still relatively early days for sweeps and social casinos, and that is sometimes reflected in the quality of the software – it can feel a little basic or old-fashioned.
That's the case with some of SweepSlots' competitors, like Luckyland Slots or Funzpoints. Both are great sites, but both have reasonably basic user interfaces.
That's not the case with SweepSlots. While not dazzlingly complicated, SweepSlots does feel slick and up to date and avoids that retro aesthetic for the most part.
The site is well designed and easy to navigate around, and the games look great too.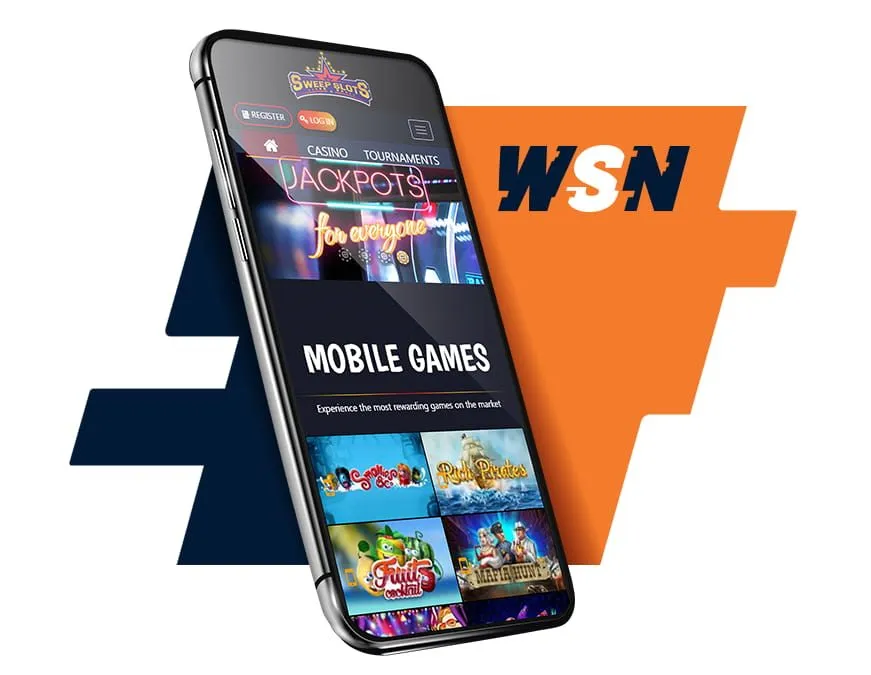 Although it doesn't currently have a dedicated mobile app, SweepSlots' platform is also fully optimized for mobile access. The site works really well on the smaller screen, and you'll get all the same usability on your phone as you do on desktop.
Games at SweepSlots
You can browse through all the games at SweepSlots in the "Casino" tab. Remember that all the games can be played either for Gold Coins or Sweeps Coins, and you can flip from one mode to the other by using the toggle at the top of the page.
Compared with the likes of Chumba Casino and Luckyland, there are fewer games on offer at SweepSlots, with around 30 games available at the moment. We imagine that number is likely to grow.
The clue is in the name, but SweepSlots is more or less exclusively focused on slots.
Slots
The slots at SweepSlots are a lot of fun. For the most part, they feel fairly traditional: mostly 5 reels, adjustable lines and stuffed full of wilds and scatters. There are plenty of classic slot themes, from pirates and fantasy characters to gems and fruit machines.
You can play for both GC and SC and at a good variety of stakes. In Sweeps Coin mode, you can spin the reels for as little as SC1 per betting line.
There are also progressive jackpots running, which you can see at the top of the screen when you open a game.
The graphics and gameplay are fun and on the simple side. There isn't much in the way of crazy 3D graphics or major innovations in gameplay, but that's no bad thing in our mind.
Table Games and Other Games
SweepSlots doesn't currently offer any table games. If you're looking for a social casino that does have games like blackjack and roulette, your best bet is probably Chumba Casino or, surprisingly, Global Poker which specializes in poker but also has other options.
There is one exception to the slots rule at SweepSlots. There are currently two Keno-style games on the menu – Las Vegas Keno and Golden Egg Farm Keno. Both are fun games in the keno and bingo tradition, and they make a nice break from slots once in a while.
Purchasing at SweepSlots
SweepSlots feels quite advanced for a social casino in a number of ways, and one of them is with the payment options for purchasing Gold Coins. You can make simple purchases using your Visa or MasterCard or via bank transfer, but you can also purchase Coins using cryptocurrency, including Bitcoin, Doge, Ethereum, and more.
It's great to see a sweeps casino embracing the changing face of making online payments by accepting crypto. And of course, for the plenty of people who don't use crypto and want to keep things simple, credit card payments are extremely easy.
The minimum purchase option is $10, and the process is fast and simple.
Redeeming Prizes
As we've mentioned, all the games at SweepSlots can be played using either Gold Coins or Sweeps Coins. If you win more Gold Coins they can only be used to play other games, with no prize attached to your winnings. Winning Sweeps Coins on the other hand can be redeemed for cash prizes.
Redeeming your prize is a simple process. The "Redeem Funds" button is in the menu, and it even helpfully shows you the dollar amount you'll be able to redeem your Sweeps Coins for.
Redemptions are transferred directly to your bank account, which is very convenient. However, for particularly large cash prizes SweepSlots may send you a paper check.
Before your cash can be transferred, you'll need to verify your identity and your personal bank account. This involves sending SweepSlots a copy of your ID (such as a passport or driver's license) along with a bank statement.
The verification process is standard for all social casinos that offer cash prizes, and it's a smooth process.
The minimum prize you can redeem is $20.
SweepSlots Customer Support
SweepSlots have a number of good customer support channels. For one thing, there's a short but useful list of FAQs that you can find in the menu. It does a good job of explaining how the sweepstakes model works, as well as some other aspects of the site. We'd recommend checking this out first.
If you'd prefer to get in touch with SweepSlots directly, there are two options.
You can use the contact form to send them a message, and you'll receive a response to your email address. SweepSlots are good at responding to inquiries quickly, so this is a solid option.
Alternatively, you can call SweepSlots for 24-hour live support at 1-800-416-6788.
It's pretty rare for a sweeps casino to have a dedicated customer support phone line, so this is impressive.
Finally, we'd recommend following SweepSlots on social media, like Facebook and Instagram. It's the best place to keep up to date and learn more about the site, as well as getting first dibs on the latest bonuses and promotions.
Is SweepSlots Legit?
Yes. Despite its similarities to real money sites, SweepSlots is not a real money casino and it doesn't require a gaming license to operate. As a sweepstakes casino, It adheres strictly to sweepstakes laws, and you cannot make deposits or withdrawals to your SweepSlots account. Neither can you purchase Sweeps Coins.
Instead, playing games via Sweeps Coins and redeeming your winnings for cash prizes are legally viewed as a form of sweepstakes.
Moreover, there is absolutely no requirement to make any purchases to play the games at SweepSlots. Both Gold Coins and Sweeps Coins can be obtained totally free, and purchasing additional Gold Coins is entirely optional.
Using this model, SweepSlots is available to players in 49 different states in the US (Washington is the exception) as well as Canada.
More Legal Sweepstake Options in the US