The Current Online Sports Betting Situation in Montana
Think about this: when internet gambling was banned in Montana in 2005, the iPhone hadn't even been released yet. The introduction of smartphones and other advances in technology have completely changed the way people can place bets and that's one reason the US government is rethinking its approach to regulating online sports betting.
States have learned that it's impossible to completely ban online gambling since everyone has access to the internet and off-shore casinos and sportsbooks. Online gambling is big business, one that Montana and other states are having more and more trouble ignoring.
For now, the recent 2018 ruling (discussed in detail in the following section) has had no tangible effect on sports betting in Montana. Horse racing and the fantasy sports betting pool offered by the state's lottery are the only forms of "sports betting" that are legal in the state, and right now state officials haven't made concrete steps to legalizing sports betting.
A Bozeman Daily Chronicle article quoted the Montana Department of Justice spokesperson Eric Sell, who said that the amount of people betting on sports is too low in the state to make it profitable for Montana.
"We don't have that Vegas-style sports betting in the state, and we don't have that unless the Legislature authorizes that," Sell said to the Bozeman Daily Chronicle.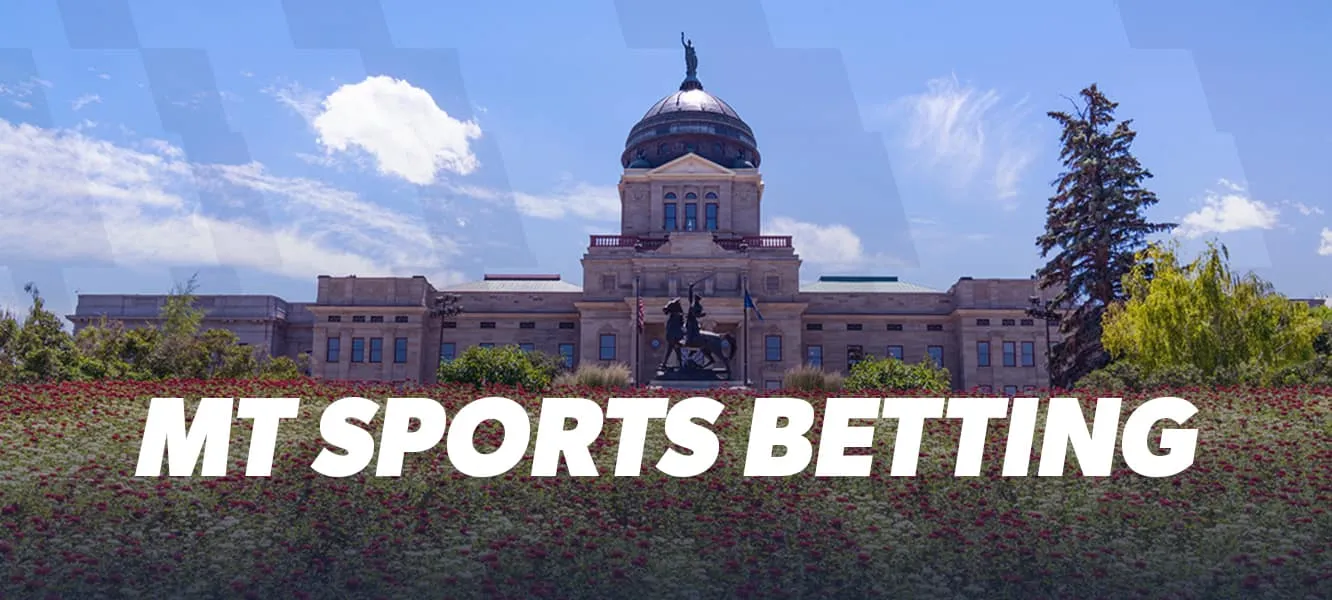 2018 Supreme Court Decision
A 1992 law from the Professional and Amateur Sports Protection Act previously banned sports gambling to "protect the integrity of the game." Fast-forward to the current day, and the American Gaming Association estimates that $150 billion is illegally wagered on sports in the United States every year.
That was one reason why, in May 2018, the Supreme Court voted 6-3 in favor of striking down the outdated law. The decision essentially gives each American state the autonomy to create their own laws on sports betting. Previously, sports betting was restricted to just a handful of special states but expect that to change in a big way.
But it will take time for the rest of the states to take action after the Supreme Court's ruling, and Montana is no different. There are still some hills to climb before sports betting becomes a widespread and legal phenomenon.
The History of Sports Betting and Gambling in Montana
So we've outlined the latest in what's going on with sports betting in the United States, but how did we get here? Understanding the history of gambling laws in Montana can shed some light on the state's attitude towards betting in general.
Montana started out similarly to the rest of the United States, but there have been a few unique twists in the state's history. Here's a rough timeline.
1. The Ban of 1910
As settlers made their way to the United States, they brought along a table and card games for the common citizen to bet on. Often, these gambling setups were unlawful, unregulated and unfair.
There were also a number of lotteries across the United States, including Montana, that were outright scams. These were both problems for decades leading into the 20th century, which led to the Western ban on all types of gambling in 1910.
Montana previously outlawed gambling in 1889, but underground gambling rings were still running rampant in the state.
2. Loosening the Grip & "The Hickey Act"
After the great depression, all of the hoopla around banning gambling seemed like old history, and it was slowly implemented and accepted back into society during the 1930s. In 1933, gambling was once again legalized in the state in bars.
This led to the "Hickey Act" in 1937, which gave counties the ability to legalize table games if they wished to do so, continuing the widespread acceptance for gambling in the Western U.S.A.
3. Slots Legalized in 1945
The wave of gambling took another step forward to acceptance following the conclusion of World War II when the state of Montana decided to legalize slot machines under the term "trade simulators." This was a strategy from the government to earn tax dollars from slot machines since they were already hugely popular at the time.
This legalization was only temporary, as the state quickly made them illegal again in 1950.
4. Better Days for Gambling in Montana During the 1970s
Almost all forms of gambling were considered illegal through the 1950s and '60s, but the tides started to turn in the '70s. In 1973 legislature approved the "Card Games, Bingo, Raffles and Sports Pool Act" for charitable purposes which allowed for some forms of sports betting.
In 1976, the state would also legalize video keno as a form of bingo.
5. The Rise of the Internet & the Fall of Internet Betting
The state of Montana passed legislation in 2005 that made internet gambling of all kinds illegal. While the ruling was disappointing, it was in line with the laws many states were implementing at the time.
Why Montana was Different
When the 2018 legislation came into effect and gave each state a chance to take their stance on sports betting, there were four states who weren't affected as directly compared to the other 46 states.
Delaware, Montana, Nevada, and Oregon already had their own form of laws on sports betting. Delaware was the most recent state to put it in their legislation in 2009, but Montana established their anti-gambling laws prior to that.
While Montana residents do have some limited betting options through the state's lottery, expect the state to draw up new legislation regarding sports betting before any major changes come into effect. Another avenue would be to expand the state lottery's ability to offer more sports gambling options.
The Legality of Online Sports Betting in Montana
While online gambling and sports betting are both illegal in Montana, there is one glaring caveat to the law.
The law states that it is illegal to gamble online in the state of Montana unless you are gambling on an offshore gambling website which is not state-controlled. While that doesn't provide any monetary value to the state of Montana, it does provide residents with safe, popular and well-reviewed platforms in which they can successfully bet on sports.
The illegality of sports betting in the states extends to anyone in the state who hosts a sports betting platform. This is both illegal in the state and considered dangerous to anyone who uses such a platform.
Understanding the Grey Area of Off-Shore Casinos
You might be reading this and wondering, how is sports betting "illegal" in Montana, yet it's legal to gamble on sports in the state on offshore platforms?
Sports betting is considered illegal in Montana, and it specifically applies to those who run platforms and casinos in the state. However, there is some grey area regarding online gambling in the state.
Technically, there is no legislation that prohibits now promotes online gambling in the state. Because of this, residents can safely and legally gamble on offshore gambling sites hosted outside of Montana.
Our advice? Even though you may be able to get away with betting using off-shore companies, you leave yourself and your money vulnerable if something goes wrong. Since the company is based in a far-off country and not subject to US law, you'll have a hard time resolving problems or recovering your funds if the company shuts down, for example.
What Sports Can You Bet on Online in Montana?
Although the state does not allow full-on sports betting, there are some exceptions to the laws in Montana.
Horse racing and dog racing are both a legal and accepted betting activity in many Montana casinos and online platforms. It is easy enough to bet on horse racing on a number of websites in Montana. There are also offshore websites that offer horse betting in Montana.
You can also bet on horse racing and dog racing at casinos in Montana. If you're looking for websites and casinos that allow horse racing, check the Montana Board of Horse Racing to see whether the casino or website in question allows you to legally gamble on horse races.
Lastly, the Montana Lottery offers fantasy-style betting on football and auto racing.
Which Online Sports Betting Sites are Legal in Montana?
As we've mentioned, the only fully legal sports betting options in Montana are the fantasy pools run by the Montana Lottery plus wagering on horse and dog racing.
Some websites will tell you that it's legal for residents of Montana to place bets with off-shore casinos but the truth is, it's a grey area at best.
While no US citizens have ever been charged criminally for betting on off-shore sites, that doesn't mean it's completely safe. Since these sites aren't regulated by the US they can be less trustworthy and secure.
Also, if something goes wrong with your money or with their company, you have very little legal recourse to recover your funds or resolve disputes.
We strongly recommend only using regulated and legal betting sites regardless of which state you live in.
Is There No Deposit Sports Betting in Montana?
Because there are no legal registered sports betting websites in Montana, no-deposit sports betting isn't an option right now.
And be warned, If you do find a site offering these services while you're searching online, understand that these unregulated websites can be dangerous to visit. We do not recommend playing on off-shore casinos or sportsbooks since they are not subject to US law or quality assurance.
That means if something goes wrong, you'll have zero recourse with the website. We recommend taking advantage of the existing options and waiting for fully legal and regulated sports betting to make its way to Montana.
What Is the Future of Online Sports Betting in Montana?
The history of sports betting in Montana has been long and convoluted, which makes the future of it even murkier to predict.
Montana doesn't have any professional sports teams so the market for sports betting isn't as big as other more sports-oriented states. However, there are some prominent college teams that draw attention in the area. Tucked in the Northwest corner of the states, Montana is also firmly rooted in hockey culture as well.
That said, there is a significant amount of money leaving the state in the form of bets made with off-shore casinos and sportsbooks. These lost funds are a big motivating factor in state government's decision to legalize sports betting. For that reason, we predict Montana will follow suit and begin drafting new sports gambling legislation soon.
Is Montana Revolutionary or Reactionary?
If you recall our earlier history less you'll remember that Montana did jump on the sports betting legalization bandwagon early, but you could make the case that they were just following in the footsteps of nearby states
Both Nevada and Oregon introduced their own legislation on sports betting early on, and Montana followed them. Nevada firmly has a grip on the sports betting business in the Western USA, and now politicians in Montana are claiming that they don't see the monetary value in hosting state or locally funded sports betting platforms.
Since they've followed the trends before we think It's a safe bet that Montana will follow other states again as they decide how to deal with the new federal legislation that allows them to make their own decisions on sports betting.
Will Online Sports Betting Ever Be Legal in Montana?
At the moment, it seems as if the state is in no rush to implement their own sports betting systems. With all residents able to take their money elsewhere outside of the state to gamble, Montana seems like it won't change its stance on sports betting.
The main reason why Montana won't implement their own betting systems is simple: the cost of running these platforms versus the number of people living in the state. As of 2018, Montana's population only just crested the one million mark, with 1.05 million people estimated to be living in the state. That ranks just 44th of the 50 American states.
With such a low population and no professional sports teams in Montana, it's likely that the government's stance on sports betting could be prudent. It comes down to whether there be big enough profits compared to the cost of implementing these activities in the state.
Recap: Sports Betting in Montana
Here's a quick recap of what's happened with sports betting in the state of Montana.
They were one of the firsts states in America to offer their own legislation on sports betting.
The laws in 2018 that gave each state their own autonomy to make decisions on sports betting weren't as impactful for Montana.
Residents are allowed to bet on sports on offshore gambling websites which represents a significant loss in tax revenue for the state.
The state of Montana has no concret plans to implement or legalize local online sports betting platforms but could follow the lead of other nearby states in the near future.
Montana Sports Betting Hopefully Coming Soon
All across the country we are about to see a major change in the way states decide to handle sports betting, but there will be a struggle. Will each state offer their own betting platform, or will a handful of websites monopolize the sports betting landscape?
Regardless, sports betting will definitely become more accepted across the United States. There is simply too much money and too much demand for states to turn it ignore it any longer. That's great news for sports bettors because once the flood gates open betting sites will start competing to offer the best sports betting experience.
Keep an eye on this page to see if new legislation is introduced, or if Montana decides to give its lottery the power to offer more sports betting options.