North Dakota Legal Sports Betting at a Glance
In case you missed it, something huge happened in the US sports betting world and it could have a profound impact on sports fans in North Dakota.
In May of 2018, the US Supreme Court reversed a federal ban on sports betting that had been in place since 1992. It was called the Professional and Amateur Sports Protection Act (PASPA) and now that it's gone, each state in the US has the freedom to write their own new laws around sports betting.
North Dakota didn't react right away but with more than ten casinos already in operation and a healthy sports culture, it was clear that there was potential for legal sports betting in ND.
As 2019 got underway a new bill, HB 1254, was introduced by state lawmakers in order to allow "sports betting as a game of chance" in North Dakota. The bill also stipulates that regulating and overseeing legal sports betting would be up to the state Attorney General.
The Current Online Sports Betting Situation in North Dakota
After PASPA was repealed, the Peace Garden State took the same approach as roughly half the country.
While some states like New Jersey, Delaware and New Mexico jumped in with both feet, North Dakota adopted a wait-and-see approach to find out how legalized sports betting played out in other parts of the country.
State lawmakers must have liked what they saw because at the beginning of 2019 they introduced a new bill to make sports gambling legal.
Like most states, there are people on both sides of the fence.
State Republican Andy Margos told The Bismarck Tribune that she's not so confident the issue will have enough support to move forward smoothly.
"I think it would have very minimal support because of the particular political pressures put on by various groups," said Andy Maragos. "My guess is, if there is a group of citizens out there that would like to see sports betting legalized in North Dakota, they'll have to go to the ballot."
North Dakota already has over ten casinos split almost evenly between tribal and charitable casinos so the state certainly has an appetite for gambling.
Another factor is that other nearby states including South Dakota are also moving forward with their own sports betting bills. In addition to missing out on potential tax revenue by not legalizing it, ND can expect to lose even more money when its citizens travel to other states to bet on sports.
For all these reasons we expect serious movement on this issue in North Dakota during 2019.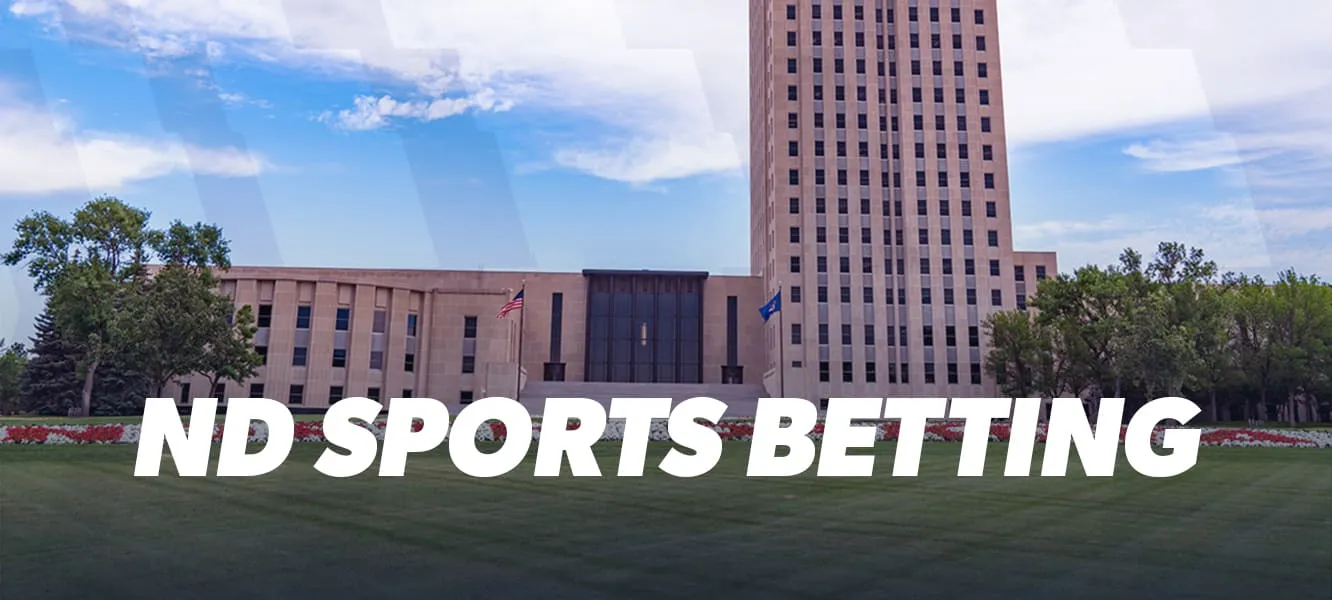 The History of Online Sports Betting in North Dakota
North Dakota finds itself in the middle of the road regarding its gambling laws and much of its history has to do with legislation specifically for tribal and charity gambling.
While the state doesn't have much experience with sports betting in particular, the fact that it has adopted other forms of gambling like casino games bodes well. It also means that the state has the infrastructure to create land-based sportsbooks followed by online betting options.
Let's take a look at the major events in North Dakota's gambling history:
1976 – Charitable Gaming Allowed
There was a blanket ban on all types of gambling in the state until 1976 when the government passed legislation to allow charitable gambling such as bingo and fundraisers such as raffles.
1987 – More Gambling Allowed
Two things happened in 1987, including an expansion on the charitable gambling laws. During this time, North Dakotans gambled more per person for charitable causes than any other state.
Coincidently, pari-mutuel sports betting was allowed at horse and greyhound race tracks in the state.
1990s – Tribal and Charitable Casinos
Casino gaming in the state started in 1992 when five tribal communities reached an agreement with the state government to build casinos, which now allow Class 3 table games.
2000s – Legal Lotteries
In 2002, voters approved North Dakota joining in multi-state lotteries. In 2004, North Dakota opened up its own state lottery.
2005 – North Dakota Fails to Pass Online Video Poker Bill
Republican James Kasper originally tabled the bill in 2005 but was unable to get enough support for it to pass.
Since that bill, North Dakota hasn't done much in the way of online gambling legislation.
Which Online Sports Betting Sites are Legal in North Dakota?
Unfortunately for residents in North Dakota, there are no legal sports betting sites available at the moment.
When legalization does happen in North Dakota, we expect to see many of the same options that are available in other states that have legal sports betting.
Make sure to check back on this page for expert reviews of the best North Dakota online sports betting sites. You'll be able to compare all the online sportsbooks that accept players from North Dakota and guarantee yourself a big bonus when you sign up for an account.
In the meantime, keep an eye out for big brands like these to become the best online sportsbooks in North Dakota.
Caesars
Originally based out of Las Vegas, Caesars Sportsbook has moved to other parts of the country like New Jersey since the wave of legalization began.
Some benefits of joining include Caesars matching your first deposit for up to $300. They've also reinvented their sports betting app for a much smoother experience.
888Sport
The parent company of 888Sport has been around for a long-time offering casino, poker and sports betting in other parts of the world. 888Sport has partnered up with existing casinos in other states to become one of the best legal US online sportsbooks.
Caesars (Former William Hill)
William Hill began in Britain and made its way into the American market when they acquired American Gaming Inc. in 2011.
Caesars has many years of experience as one of the biggest bookmakers in the world so it's a safe bet they'll be one of the major brands that casinos in North Dakota look to for online betting options.
What Sports Can You Bet on Online in North Dakota?
At the moment, you can't legally bet on any sports online in North Dakota. When online sports betting ultimately becomes legal, however, basically every major sport in the world will be fair game.
The most popular sports in North Dakota include Basketball, football, ice hockey, and baseball.
Here are some of the professional and college teams that sports bettors in North Dakota may choose to focus on when sports betting becomes legal:
University of North Dakota Fighting Hawks (they boast one of the best hockey programs in all of America). They also have solid football, volleyball, and softball programs.
Other hockey teams include the Fargo Force (USHL).
Baseball teams include the Fargo Redhawks (AAB), along with some college summer league teams such as the Bismarck Larks, Badlands Big Sticks, and Sabre Dogs
There are many popular high school football teams in the state. There are some notable University teams as well, primarily North Dakota State University.
How to Bet on Sports Legally Online in North Dakota
Right now it's a waiting game to see how exactly legal sports betting will develop in North Dakota.
Although we don't know the exact details, we can tell you how it works in other states. Chances are good that North Dakota will be very similar.
Compare the best online sportsbooks in North Dakota to find one that's right for you.
Register an account by providing personal information and other documents to verify your identity.
Choose a username and password for your account.
Make your first deposit by selecting one of the site's accepted deposit methods.
Redeem a valuable welcome bonus or other promotion.
Use the sportsbook's website or app to find the sports and games you want to bet on and place your first wager.
Is Betting on Fantasy Sports Legal in North Dakota?
Yes. It is legal to bet on daily fantasy sports (DFS) in North Dakota.
Ever since the US government passed the Unlawful Internet Gaming Enforcement Act and designated fantasy sports as a game of skill, North Dakota residents have legally been able to participate in betting on daily fantasy sports.
The realm of fantasy sports has grown dramatically in recent years, with some of the top websites going heavy on promotions. Here are some of the top options for those looking to play fantasy sports in North Dakota.
DraftKings
One of the most popular sports betting websites in the United States, with estimates for 2019 stating that the website should pay out approximately $1 billion worth of winnings.
FanDuel
The long-standing website paid out almost $2 billion in 2015, and they offer good perks for newcomers, such as 100% money back on your first $5 or $10 bet.
Draft Day
The newcomer to the fantasy sports game is making waves, A couple of the reasons they are becoming more popular is because of their user-friendly interface and new member bonus.
What Is the Future of Online Sports Betting in North Dakota?
Experts are optimistic about the future of online sports betting in North Dakota. There's definitely a market for it and many different people in the state stand to profit if it's made legal quickly.
With a new sports betting bill already introduced and a variety of powerful factors pushing the state towards legalized sports betting, we expect it to happen by 2020 at the latest.
Janelle Mitzel is the President of the Charitable Gaming Association of North Dakota and she told The Bismarck Tribune that the future of sports wagering in North Dakota may involve contracting with a "large entity" such as MGM.
"I'm sure we will have some organizations that will want to do sports betting," Mitzel said. "And some of those organizations will be able to handle it and handle some limited amounts of bets, probably in conjunction with contracting services."
Creating partnerships between existing casinos and larger brands with experience in sports betting and online betting sites is a strategy we've already seen in lots of other states.
Usually, land-based sportsbooks are constructed in existing casinos, followed shortly after by online betting sites and apps.
Encouraging Signs for Legal Sports Betting in North Dakota
North Dakota wasn't among the first batch of states to legalize sports betting but all signs indicate that it won't be among the last, either.
ND is showing lots of signs of life including new sports betting legislation and a multitude of interested parties that include casinos, the state lottery, and some lawmakers.
By all accounts, the people of North Dakota are also in favor of having legal sports betting options.
The first part of 2019 should shed some light on the state's progress and we recommend checking back on this page for major developments as they happen.