South Dakota Legal Gambling at a Glance
Like we mentioned before, South Dakota has specific laws banning online gambling but has recently legalized sports betting. This is an understandably confusing situation since the rules in SD are going through massive changes. Look forward to 2021 when the legislature will be set to approve laws to regulate and tax sports betting.
South Dakota has a rich gambling history and there are already plenty of land-based casinos operating there.
Many of the gambling venues are located in historic Deadwood, known as the home of the famous gunfighter, lawman, and gambler Wild Bill Hickok.
Having a large gambling community already in place will help to push the state legislature to pass the necessary laws it will take to et sports betting off the ground when they meet in January 2021.
South Dakota Sports Betting Laws Summary
At the moment sports betting is not fully legal, but it will be soon! As mentioned above, this may soon change. Below is a list of the current gambling laws that apply to residents of the Mount Rushmore state.
Sports betting was approved on the Nov 2020 ballot measure but South Dakotans will have to wait until the legislature is able to finalize the rules. Look for this in early 2021.
South Dakota constitution defines gambling as 'wagering anything of value upon the outcome of a game of chance; maintaining gambling place or equipment.'
Casino table games and slot machines are authorized on sanctioned tribal lands and in the town of Deadwood.
Bars and taverns are allowed to have up to 10 video lottery terminals that offer poker, blackjack, bingo, and keno. The maximum bet is $2 and the max payout is $1,000.
Horse Racing is sanctioned and legal. As well, they offer pari-mutuel betting at authorized satellite racetracks which are located over 50 miles away.
Greyhound racing is sanctioned and legal. As well, they offer pari-mutuel betting at authorized satellite racetracks which are located over 50 miles away.
Charitable events can sponsor bingo and other lottery evenings with no prize in excess of $2000
Internet gambling is prohibited.
Must be 21 or older to gamble.
The Current Online Sports Betting Situation in South Dakota
Big changes have been happening to sports betting laws all over the United States, thanks to the 2018 Supreme Court ruling to overturn a decade's old law called the Professional and Amateur Sports Protection Act (PASPA).
That ruling makes it such that all states are now able to govern for themselves whether or not they want legal sports betting for its residents.
While South Dakota has approved legal sports betting in November 2020 there are no rules in place to manage it. Unfortunately, you will have to wait until the state legislature reconvenes in early 2021 to get sports betting up and running in SD.
One main advocate for change is the Deadwood Gaming Commission (DGA) in the town of Deadwood which is the state's central gambling tourist attraction and destination.
Hoping to hold a near-monopoly on a potential legalized sports gambling industry, the DGA has filed paperwork with the Secretary of State's Office that would make the requisite amendment to South Dakota's constitution that would allow sports gambling to fit into its existing regulations.
Depending on how lawmakers and voters decide to move forward with the opportunity to legalize sports gambling we could see momentum as soon as the first part of 2019 or early in 2020.
Roger Tellinghuisen represents the DGA and has argued that while legal sports betting could generate around $1 million in revenue split between various casinos, a bigger benefit would be a boost to tourism.
Jim Bolin, a Republican State Senator from Canton, has expressed doubts about a sports betting bill passing in the state legislature.
Some proponents of legalized sports gambling have suggested making it available through the video lottery terminals that are already legal and located all over the state. Others argue that sports gambling should be restricted to the casinos in Deadwood and on tribal lands.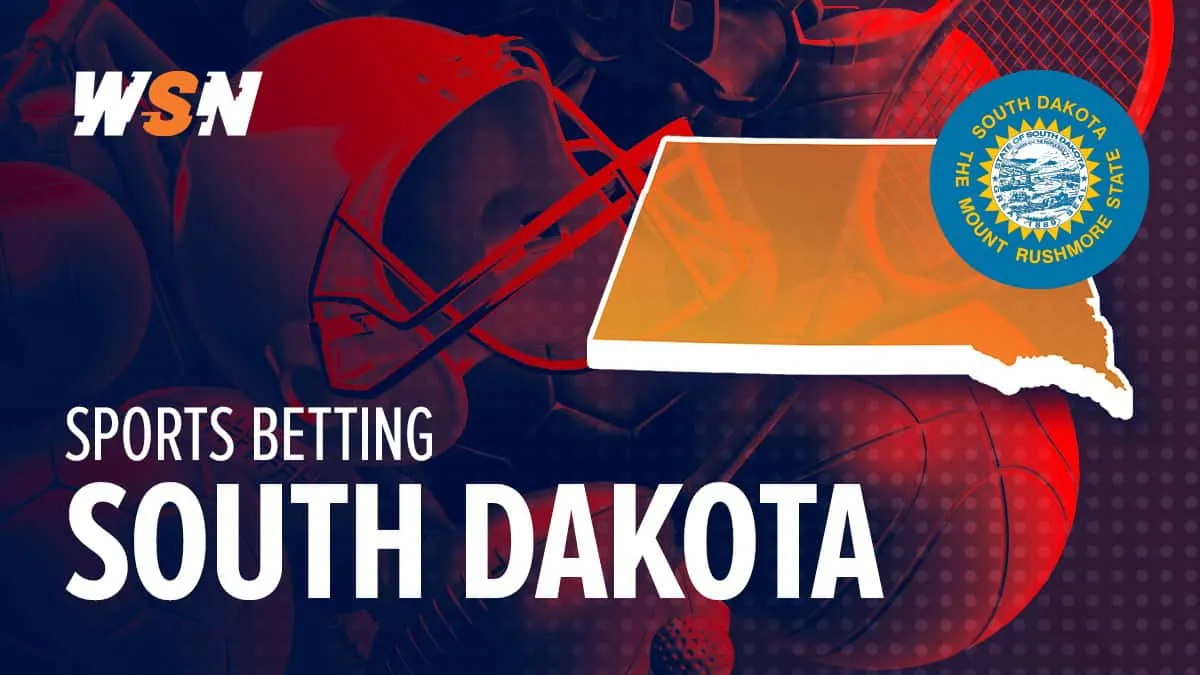 The History of Online Sports Betting in South Dakota
South Dakota has a storied gambling past. Interestingly, in downtown Deadwood, all buildings must comply with historic 1880s architectural styles even though the first modern casinos weren't introduced until 1989.
In fact, you can gamble in the same spot where Wild Bill was shot to death while playing cards all the way back in 1876.
The following are some notable highlights of the state's gambling past.
1986 – Legislation authorizes state lottery. this was passed one year earlier. 1987 – The state lottery makes its first draw.
1987 – The state passes a bill to allow charitable gambling such as bingo and raffle type games. This extends only to not-for-profit organizations.
1989 – Video Lottery Terminals added at sanctioned locations.
1989 – Town of Deadwood opens its first casino with $5 maximum bets. The town eventually develops into the historic tourist attraction it is today.
1990 – The first simulcast horse and greyhound wagers are offered.
1993 – The first tribal/state compact is signed. Development begins on first tribal land-based casinos.
2000 – Deadwood casinos raise their betting limits from $5 to $100.
2010 – Previous 1987 bill to allow charitable gaming for non-profit organizations extends the reach of the law to allow industrial development organizations who may also offer licensed bingo games.
2012 – Deadwood casinos raise their betting limits once more from $100 to $1000.
2020- A ballot measure on the November ballot passed thusly legalizing sports betting in SD. However, there are no rules in place to govern it so the situation is not finalized as of yet.
Which Online Sports Betting Sites Are Legal in South Dakota?
Currently, there are no online sports betting options in South Dakota.
With new laws that allow sports betting in the state, we're hoping to see an early implementation of laws that allow for online sports betting sites in SD in 2021.
What we will keep an eye on moving forward is how the next potential bill is presented to the state legislature tackles the issue of wagering online. If the town of Deadwood were to get control of sports betting in their area we would expect them to begin by opening sportsbooks within their casinos and from there develop and introduce mobile and online betting options.
In other states where sports betting has become legal, big global online betting brands like 888sport have partnered with local casinos to offer a truly world-class betting experience.
However, if the state lottery gets full or partial control of sports betting in the state then online betting will probably be available using the lottery website, app or electronic video terminals.
If legalization does happen, check back here for reviews of the best online sportsbooks in South Dakota.
What Sports Can You Bet on Online in South Dakota?
Since legal sports betting is not yet finalized, there are no sports or teams to bet on. However, we hope people in SD who want to bet on the NFL, for example, won't have to wait forever to do it legally.
Should we eventually get there in 2021, South Dakotans can expect a full buffet of all major marquee North American sports and international leagues.
South Dakota has no pro sports teams so gamblers will be excited to place bets on local university teams if legal sports betting includes the NCAA.
If and when legal sports betting does arrive, bettors will be able to wager on basically any sport from anywhere in the world, including:
NFL
NBA
MLB
Golf
NHL
NAS
MMA
Soccer
CFL
CFB
LOL (League of Legends eSports)
Tennis
How to Bet on Sports Legally in South Dakota
Other than greyhound and horse racing, you can't yet legally bet on sports in South Dakota. However, if legalization does happen, the most likely option would be through a sportsbook somewhere in the famous gambling town of Deadwood or on tribal land.
Depending on the direction legal betting takes, it may be available only in person at existing casinos or it might be accessible through online sites and betting apps similar to what we've already seen in other states that have legalized sports betting.
Check back on this page to find the best online sportsbooks in South Dakota when they become available, as well as detailed instructions on how to sign up and start betting legally.
Is Betting on Fantasy Sports Legal in South Dakota?
While there is Daily Fantasy Sports in South Dakota at the moment, Attorney General Marty Jackley has openly expressed mixed opinions on the matter. In a recently written statement he wrote:
"Based upon the current state of uncertainty, including the ongoing debate on whether daily fantasy sports wagering is predominantly a permissive game of skill or an unlawful game of chance, it will not be my intent to seek felony indictments here in South Dakota absent a clear directive from our state legislature."
For right now it looks like DFS betting is a safe play in South Dakota. FanDuel, DraftKings, Yahoo, and Fantasy Draft all accept players from South Dakota.
What Is the Future of Online Sports Betting in South Dakota?
Our best prediction is that legal sports betting will come to South Dakota, but it won't happen overnight. Look to the state legislature tackling the issue of creating rules for sports betting in early to mid 2021.
If you're looking forward to betting on sports online in SD, the wait is going to be even longer.
It's plausible that the state will take steps to legalize in-person betting on sports either by creating both physical and online sportsbooks in existing casinos in Deadwood. Whether or not SD allows for online sportsbooks or just retail ones, it is anticipated that sports betting in SD will likely be taxed at 9% of revenue.
The truth is not many state lawmakers enjoy sitting on their hands while watching other states generate extra tax revenue. In short, money talks and we believe that with the approved ballow measure sitting on their desks legislators will likely move quickly to finalize and approve sports betting.
2020 has been an important year and we expect 2021 will be important for the state's progress towards a finalized sports betting bill.
South Dakota Sports Gamblers in for a Wait
Right now we encourage some patience since there isn't much to do except wait until the South Dakota State Legislature reconvenes in 2021.
Luckily for residents, the state has a fairly progressive view on gambling in general and already sees the benefits of tourism money coming in from visitors to Deadwood who enjoy gambling and the historic atmosphere that comes with it.
The most optimistic forecast for legal sports betting in South Dakota might make in-person betting possible in 2020 and online wagering available sometime after.
The reality is likely to be slower but you can keep track of everything that's happening by checking back on this page.