South Carolina has historically been extremely opposed to almost all forms of gambling, including betting on sports. Unfortunately for sports betting fans in the state, that opposition is still going strong.
Right now and for the foreseeable future, sports betting is not legal in South Carolina.
On this page, we'll take a closer look at the reasons why wagering on sports is unlikely to be legalized in South Carolina as well as some of the faint glimmers of hope that may one day become a regulated sports gambling industry in the state.
We'll look at daily fantasy sports wagering in South Carolina as well as some of the local sports and teams that are likely to attract the most action if legal options one day become available.
For more information on other parts of the country, read our comprehensive state by state guides to legal US sports betting.
South Carolina Legal Sports Betting at a Glance
We hate to be the bearers of bad news but if you live in South Carolina, love sports betting and thought the 2018 US Supreme Court decision was going to give you the chance to do it legally, you're out of luck.
Not only are the prospects bleak in terms of a future that includes legal sports betting in South Carolina, but the state's Senator Lindsey Graham is also vigorously pushing legislation to ban the few forms of gambling that are currently allowed.
That said, there are other political players in South Carolina, such as Senator Brad Hutton, who believe a more progressive attitude towards gambling could bring a valuable revenue stream to the state which could be used to help develop infrastructure and other important projects.
Quoted in an interview with a local media outlet Hutton openly declared, "it's an opportunity to develop a new source of revenue for very much-needed budget items we have in our state."
That may sound promising but the reality is that legal sports betting coming to South Carolina anytime soon is a longshot at best.
As it stands to date, the closest thing residents of the Palmetto State have to scratch their sports gambling itches is daily fantasy sports (DFS) which is completely legal. We'll explain more about the laws around betting on DFS in a later section but for now, let's look more closely at the current legal climate surrounding sports betting in South Carolina.
The Current Online Sports Betting Situation in South Carolina
In May of 2018, the US Supreme Court repealed a federal ban on sports betting that had been in effect since 1992. Named the Professional and Amateur Sports Protection Act (PASPA), the ban outlawed sports gambling in almost all US states.
When the Supreme Court voted it down, states gained the right to create their own laws and regulations around sports betting. Effectively the decision opened the door for states to cash in on a multi-billion dollar gambling industry.
Many states have already taken advantage of this opportunity but, unfortunately, South Carolina is not among them.
As one of the most historically anti-gambling states in the nation, South Carolina does not offer any form of sports betting online or offline. And while other similar southern states at least offer greyhound or horse racing betting options, South Carolina is opposed to betting on those sports too.
South Carolina has no casinos and doesn't allow live poker either.
One of the few forms of betting South Carolina does allow is a state lottery which was instituted in 2002. South Carolina realized they were losing out on millions of dollars in revenue because residents were driving to neighboring states to buy lottery tickets.
This is a point worth noting because tax revenue is one of the biggest motivating factors for states thinking about legalizing sports betting. One day this could be the same factor that pushes South Carolina into action.
This is especially relevant since nearby states including Kentucky, Arkansas, Tennessee, and Mississippi are all in various stages of sports betting legislation. When millions of dollars start rolling into those states' coffers, it might be enough to make lawmakers in South Carolina change their tune.
To put things in perspective, in just the first 20 days of legalized sports betting in Delaware, residents placed $7 million in wagers which generated $875,000 in tax revenue. Similarly New Jersey, in just the first two weeks, collected nearly $300,000 in tax revenue from $3.5 million in wagers.
These numbers from this potential revenue stream that is now available to any state who wishes to partake, are not going to be easy to ignore. The question becomes, if others are stimulating their local economies with this new income source, why steer clear?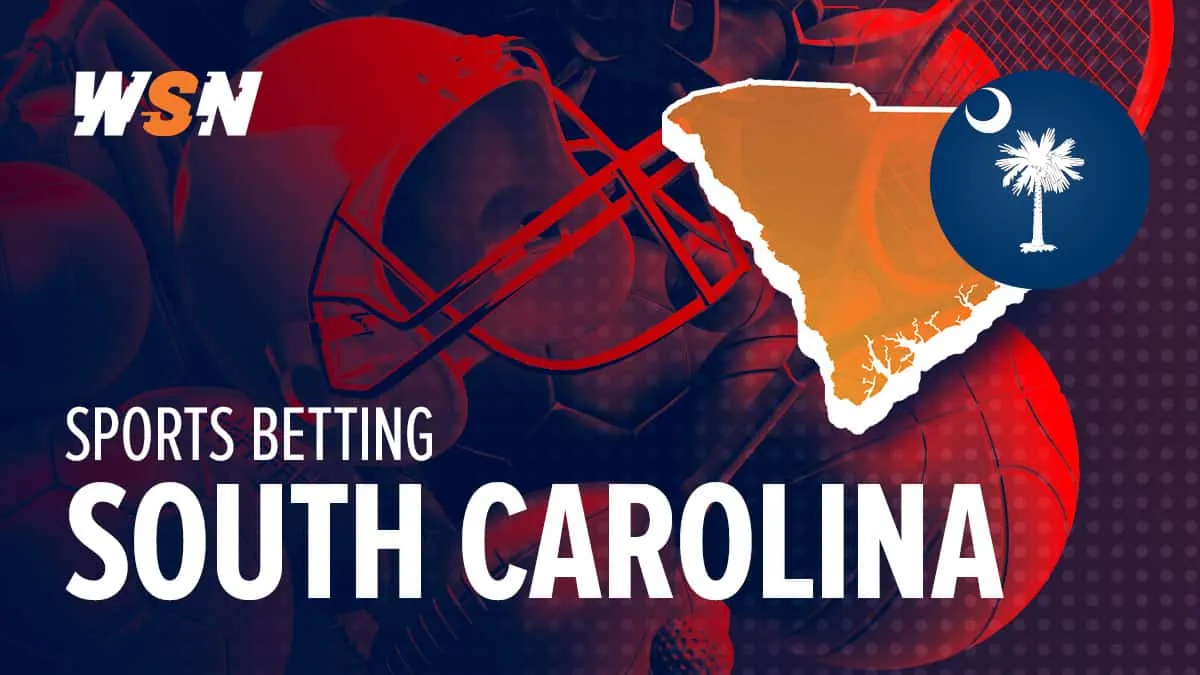 The History of Online Sports Betting in South Carolina
Historically South Carolina has been anti-gambling on all fronts. As we've seen in other states like neighboring Georgia, states with the most entrenched beliefs and values tend to be the most resistant to change.
South Carolina's anti-gambling stance dates all the way back to the 1700s so even with the repeal of PASPA, it's going to take some time for things to change.
To give a further example of how stringent South Carolina's anti-gambling laws are, it only just legalized charity raffles for organizations like non-profits and churches in 2014 and even those have a $100 maximum on tickets.
Pro-gambling legislation in South Carolina is rare but we did find one example that failed to make it out of the committee. A bill from the SC House of Representatives (H 3102) requesting to legalize pari-mutuel wagering, sports betting, casino gambling, and poker made it on to the docket but didn't bear fruit.
Which Online Sports Betting Sites are Legal in South Carolina?
Unfortunately, since betting on sports is not regulated in the state there are no legal online sportsbooks for South Carolinians to use.
While it is possible to access offshore casinos and sportsbooks, and not technically illegal, depositing and making real money bets at those sites comes with risk. Since the companies are based in foreign countries and not subject to US laws, resolving problems can be very challenging.
We strongly recommend only using legal US sites and casinos when it comes to placing any kind of real money wager. If you live in SC and want to bet, consider fantasy sports. We'll go into more detail below but for right now we can tell you it's 100% safe and legal.
What Sports Can You Bet on Online In South Carolina?
Right now it isn't possible to bet on any sports in SC but if it does one day become legal, residents can anticipate a full slate of professional and amateur sports to wager on.
Bets will be available on all major North American pro leagues including NFL, NBA, NHL, MLB plus less popular homegrown and international sports.
South Carolinians don't have any pro sports teams of their own but with a huge focus on college sports, we expect NCAA action to take center stage should legalization ever arrive.
If you live in a state where legal options do exist make sure to check out our comprehensive sports betting guides.
Is Betting on Fantasy Sports Legal in South Carolina?
The one fully legal way residents of South Carolina can use their sports knowledge and expertise to place money on sports and make informed decisions is through daily fantasy sports websites like FanDuel or DraftKings.
In 2006 the federal government deemed fantasy sports to be a game of skill and not a game of chance which exempted it from gambling laws. Many states have licensed DFS betting and South Carolina is proud to be one of them.
Players who sign up to any of the major fantasy sports websites can confidently partake knowing that their money and any subsequent winnings are 100%accounted for since DFS gambling is overseen by both the Fantasy Sports Trade Association and the US Gaming Commission.
Is There No Deposit Sports Betting in South Carolina?
Since there are no sportsbooks, bonuses are something of a moot point when it comes to South Carolina.
However, in the event that there is a drastic change in the state's sports gambling laws, it is a near certainty that the sportsbooks will offer many kinds of sign up bonuses.
No deposit bonuses are special deals that allow you to make real money bets without risking any of your own money. If sports betting comes to SC make sure to keep an eye out for these special promotions because they offer great value.
What Is the Future of Online Sports Betting in South Carolina?
At the moment there is little evidence pointing to a change in South Carolina's stringent anti-gambling attitude. While there are a few rare pro-gambling voices being heard in the senate, there are many more who prefer to maintain the status quo.
The biggest factor for change will be financial. If other states experience success and start taking in significant tax revenue because they legalized sports gambling, South Carolina will be forced to reconsider its position.
In real terms, however, the future of online sports betting in South Carolina is not optimistic. We don't expect that to change anytime soon.
Will Online Sports Betting Ever Be Legal in South Carolina?
If it does happen, it's not going to happen quickly.
Not only will states like South Carolina wait in the wings to see how other states fare financially, they will also pay close attention to how states with large NCAA contingents are affected by legal sports betting.
Many states in a similar position to South Carolina are shying away from sports gambling out of fear that it will negatively impact their collegiate sporting industry.
If others can continue with success in both domains it will certainly increase the chances of seeing previously conservative states like SC start singing a different tune.
Legal Sports Betting in SC Is a Longshot
The big takeaway from all of this is that legal sports betting looks unlikely in South Carolina, at least in the short and medium terms.
Senators like Brad Hutton, and those who support his mission, will have another opportunity to bring up the benefits of legalizing sports betting when legislators and lawmakers reconvene for discussions in January of 2019 but they'll be fighting an uphill battle.
One of the main points they will bring up, much like the lottery situation in 2002, is that if they don't open the doors to sports gambling in the state, they will be missing out on significant tax revenue. If neighboring states decide to offer legal sports betting, that will mean money leaving South Carolina via gamblers who are willing to travel across state lines to place their bets.
We know that when it comes to politics money talks. We can only hope the potential money from regulating sports betting will talk loudly enough to make politicians sit up and pay attention.
Make sure to check back on this page for any significant developments that either help or hurt the prospects of legal sports betting coming to South Carolina.