Legal sports betting began to spread around the US in the summer of 2018, and since then sportsbooks from the US and around the world have been falling over themselves to launch in the lucrative new market.
Any time a new sportsbook appears we send our experts in to conduct a complete review, to give our readers a comprehensive overview of the betting options in the US. We're used to these sportsbooks arriving first and foremost as an online sportsbook, and may or may not launch a dedicated mobile app down the line.
theScore Bet has flipped that pattern.
theScore mobile betting app has been the first choice for millions of North Americans and Canadians to keep up to date on the latest sports news and scores for over a decade, and with theScore Bet now they can place their wagers right there on the same platform.
In this review, we dig into everything there is to know about this exciting new mobile sportsbook, already available in New Jersey, Colorado, and Indiana. We look at the software, the types of bets and sports available, bonuses and promo codes, signing up, security, and much more.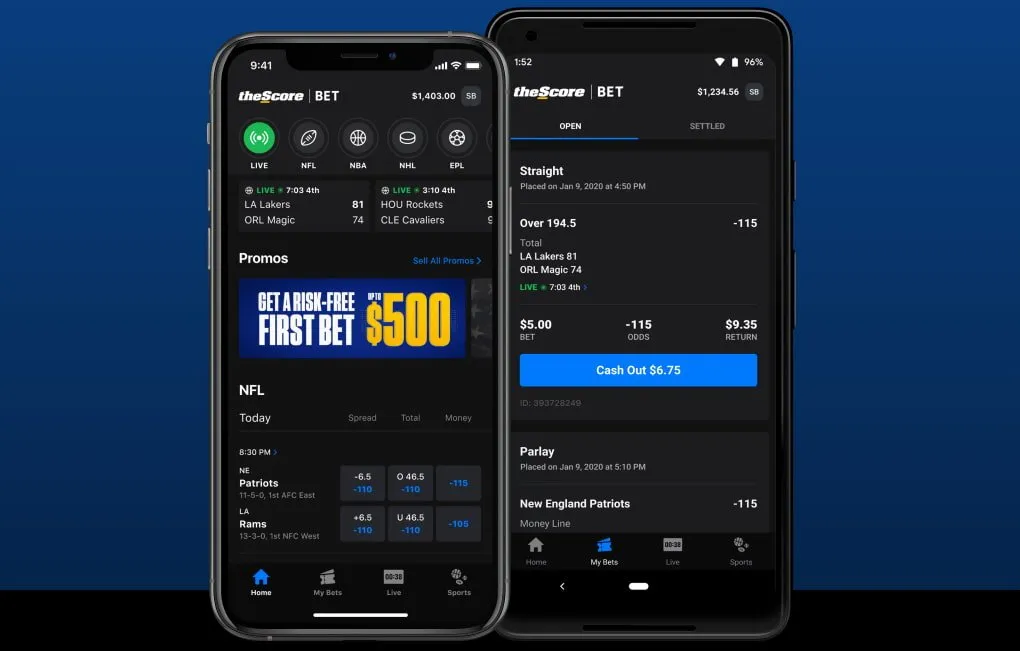 theScore Bet Sportsbook Review at a Glance
The door for legal sports betting in the US was opened in May 2018, when the Supreme Court removed the federal ban on the practice, allowing each state to decide its own sports betting laws. In truth, however, theScore sportsbook had an idea of which way the wind was blowing, and had been preparing for this situation long before the Court's decision.
In December 2018, several months after the decision, theScore sportsbook became the first company in the US to announce it was launching an exclusive mobile betting platform. It took another year for the new platform to launch, and it finally went live in NJ in September 2019. Launches in Colorado and Indiana soon followed.
Unlike virtually every other sports betting platform in NJ, CO, or IN, theScore Bet does not have a traditional desktop version of the site and is instead exclusively available on mobile.
Here are our other headlines about theScore Bet:
theScore is totally legal for NJ residents and is fully licensed by the New Jersey Division of Gaming Enforcement.
It has similar licenses from the gaming authorities in both Colorado and Indiana
To place a bet on your mobile, you need to be physically located in a state where theScore is legal.
theScore has a good selection of bets available on a wide variety of sports, up to par with sportsbooks like FanDuel and DraftKings.
theScore sportsbook operates in partnership with Monmouth Park Racetrack
Our experts had a lot of positive things to say about theScore, especially the way it integrates the experience of mobile betting with generally keeping up to date with sports on your mobile. We are big fans of the software in general.
There are also a couple of areas we think theScore could be improved, and we get into them too.
theScore Bet Software and Sports Betting App
Our experts love theScore Bet software, which offers something genuinely different to the vast majority of sportsbooks in New Jersey or around the US.
theScore Bet has been designed especially to work in tandem with theScore mobile app – which has been available in the US since 2007 and is likely to already be on millions of sports fans' phones. In this way, it's the perfect mobile sportsbook to offer users a clear and easy path from some software they are already familiar with to wagering online.
The two apps dovetail nicely with each other. If you are just looking up upcoming games in theScore, you will see betting links that open theScore sportsbook app if you click them. Similarly, if you're browsing bets in the online sportsbook, you can find links that open relevant background and statistical info in the media app.
To get the most out of this experience, you need to have both apps downloaded, which is fine for us. In fact, we like that the two are connected but at the same kept distinct from each other.
A single app combining the media company and sportsbook would probably have felt overwhelming.
theScore Bet mobile app is available for download on your mobile device for both iOS and Android. iOS users can find the betting app on the App Store. Android users, however, have to download the app from theScore Bet website.
Generally, theScore's software is clean, simple, and easy to use. There are also lots of nice little bonus features. If you choose your favorite teams or competitions in the media company app, you'll automatically be shown new bets for them in the sportsbook.
Software and App Highlights
Very easy to navigate around and find bets
Perfect for beginners, and especially players who are used to theScore app and want to dip their toes in sports betting.
We love how the two apps interact.
Loads of stats and info available at the touch of a button.
Placing bets is simple.
Things to Improve
No desktop site, which some players will miss.
To get the most out of theScore, you do need to download two apps instead of one. Also, the automatic swapping between apps may feel like too much activity for some.
The software feels very modern, but the black background may be a bit dark for some players' eyes. It would be nice to be able to choose a lighter alternative.
If you want to know more about sports betting apps we rank the best sports betting apps of 2020.
Just about every single sportsbook in the US uses welcome offers and promotions to attract new players, and theScore is no different. Our experts were impressed with the range of promos on offer at theScore Bet – both for brand new players and regular sportsbook bonuses for existing members.
Below, we've collected the best sportsbook bonuses that our experts found during their review, currently on offer for NJ players. It's worth bearing in mind that theScore sportsbook is likely to update its bonuses and promo codes, so you may find new ones when you sign up and place a first deposit and it can also depend on which state you are playing in.
No special promo code is needed to unlock theScore bonus and offers.
$100 Free Bet
This is theScore Bet's chief sign up bonus offer for new players, and it's a good one for medium to higher rollers. All you need to do is sign up, create an account, and place your first real money bet, and theScore will credit your account with a $100 free bet.
There are a few rules to be aware of. You need to use the free bet bonus within 7 days of receiving it, and it's not eligible for futures bets. It's also only eligible on bets with odds of +300 or lower.
The bet must also be placed in one go – it would be nice if it were split up into smaller bets you could spread out. Still, a $100 free bet bonus is certainly not to be sniffed at.
Up to $1,000 Cashback
New users also qualify for this first bet bonus offer. Over the first 60 days of your account, you will receive a deposit match cashback of 5% up to a value of $1,000 on every bet you place – whether you win, lose or draw.
Again, there are a few terms and conditions.
Only bets with odds greater than -300 qualify for the promotion. After 60 days, whatever remains of your bonus balance is forfeited.
This is a nice promotion that gives sports bettors something to aim for over their first couple of months. In reality, you would need to bet a huge amount of real money to earn the full $1,000 value, but you don't actually need to aim for that and every bit of cash you unlock is a bonus.
Weekly $5
This is an excellent bonus offer that theScore sports developed to promote its NFL betting. All you need to do is place a futures bet worth at least $50 on the winner of the NFL Championship (which lots of players will do anyway), and you'll receive a $5 free bet every week for the duration of the season.
We really like this free bet bonus for its simplicity and the fact that it keeps you engaged over a long period of time. Even if this promo is no longer valid by the time you sign up, theScore Bet tends to have other similar promotions launching all the time.
We've put together a list of sportsbook promo codes and bonuses. Find the best promotions in your state:
Kinds of Bets and Odds
theScore sportsbook's greatest advantage over its competitors and the thing that makes it unique is how closely it combines the fan element of sports with wagering.
You can be reading sports news and checking up fixtures in the media company app, and if a smart bet occurs to you all you need to do is hit the link to be brought straight to the relevant market in theScore Bet online sportsbook.
There is a good variety of markets available and wagering is very easy.
Here are our experts' main takeaways:
The way theScore bet works in tandem with theScore media app makes it very easy to place bets, especially for new players.
The most popular bets are all available and given the most prominence on the mobile app.
The betting markets and odds are competitive with the other top sportsbooks in the US
If you're looking for an exceptionally deep range of prop bets, you may not find them at theScore.
Let's take a closer look at some of those observations.
Popular Bets
No matter the sportsbook, there are always going to be a handful of bets that are the most popular with players. They tend to be money lines, point spreads, and totals, and theScore Bet does a great job of making them clear and easy to place.
On the sports betting media app, theScore provides the relevant links so that you can go from researching to placing a money line bet in literally a couple of clicks.
If you're interested in focusing on the basics, theScore Bet is perfect.
Live Betting
theScore Bet's in-play section is also very good. The score updates and line movements are both very fast and smooth, and the easy-to-use interface makes it easy to quickly place your bets to take advantage of changes in real-time.
Not to sound like a broken record, but again, having the media app close at hand with all its live info is a great addition to placing live bets.
theScore Bet also lets you cash out active bets in real-time, which is a fun feature.
Prop Bets
The props on offer at theScore Bet are good, but probably not quite as varied as the deepest sportsbooks in New Jersey. You can certainly find a healthy variety of props in the biggest sports like NHL, NBA, NFL, and MLB – but probably not the highly technical bets that some players like to place.
This might turn some players off, but for those who are more interested in simple, traditional bets it won't matter in the least.
Other Betting Options
theScore Bet comes fully loaded with all the most popular futures bets for sports in the US and around the world. Parlays are very easy to place thanks to the smooth software of the app. There are also teasers and round robins.
Overall the betting menu at theScore Bet is very good, although possibly just below the very top tier among other sportsbooks in New Jersey.
Sports You Can Bet on at theScore Bet
theScore Bet is designed to dovetail with theScore media app, so for the most part whenever you are checking the scores in a particular sport on the app you should find corresponding betting markets.
As you would expect, the most popular sports are well represented with plenty of betting options, including NHL, NFL, NBA, MLB, and soccer.
Other top sports both in the US and from around the world are also well represented. Exceptionally niche sports are less likely to be available.
Our experts agreed that the range of sports at theScore are very solid, and likely to be perfect for the vast majority of bettors. The list is subject to change, but below you can get a sense of what's on offer to bet on at theScore Bet:
Australian rules
NCAA Baseball
Boxing
Cricket
Cycling
Darts
NCAA Hockey
Rugby Union
theScore Sportsbook Payment Methods: Options for Depositing & Withdrawals
Playing at legal and regulated sportsbooks means you can always withdraw and deposit with confidence. All transactions are protected, and you never need to worry about your cash going missing.
Our experts found that theScore Bet has a comparatively smaller range of banking options than the other top sportsbooks in New Jersey, but there should still be something for everyone.
This might be a consequence of the platform being exclusively available via mobile app, and we also wouldn't be surprised to see some more methods added in the future.
It's also worth noting that there could be some discrepancy in the banking options between the versions in NJ, CO, or IN.
Deposit Options
Online Banking/eCheck/ ACH
theScore Bet Play+ Prepaid Account (you can fund your Play+ account through PayPal)
Cash at the casino cage
Withdrawal Options
Online Banking via eCheck or ACH
theScore Bet Play+ Prepaid Account
Cash at the casino cage (NJ only)
There is definitely room for expansion in this list. Still, between bank cards and bank transfers, the vast majority of players should be happy enough.
We would love to see some e-wallet options added, such as PayPal, which is a very popular method for funding sportsbooks. This is something we hope theScore Bet looks at in the future. If you prefer to use e-wallets to deposit and withdraw your money, we have compiled a list of betting sites that accept PayPal.
If you encounter any withdrawal issues you can reach theScore Bet's customer support team at 1 (855) 916-0077, suppor[email protected], or via the chat feature on theScore betting app.
Payment Methods Comparison
Figuring out which banking method to choose can be challenging.
Online banking is very convenient, but some players prefer not to directly link their bank account with a casino or sportsbooks, or have them appear on their bank statement. Bank cards are exactly the same.
Using cash at the Monmouth Park Racetrack is perfect if you happen to live near it, or you're a regular visitor – but not much use if not.
theScore Bet Play+ Prepaid Card is a great option to make secure transactions and acts as an intermediary between your bank and sportsbook account. It does however mean signing up for an extra service.
We've put together the table below to help give you an overview of the differences between all the options and make a smart choice.
This table outlines the various transaction methods:
Method
Deposit
Withdrawal
Processing Time
Minimum Deposit
Max Deposit
Fees
Visa
Yes
No
Immediate
$10
$10,000/month
Not from sportsbook
Mastercard
Yes
No
Immediate
$10
$10,000/month
Not from sportsbook
Online Banking
Yes
Yes
Immediate for deposits, 2-3 days for withdrawal
$10
$7,500/day,

$10,000/month

Not from sportsbook
theScore Bet Play+ Prepaid Account
Yes
Yes
Immediate
$10
$2000/day,

§10,000/month

Not from sportsbook
Cash at Casino Cage
Yes
Yes
Immediate
$10
$10,000/month
No
Signup and Registration
Signing up with theScore sportsbook is a very easy process – although it may take slightly longer than normal since it's all done on an app. Sportsbooks always try to make this step as pain-free as possible, and that's exactly what they have done here.
Your first step will be to download theScore Bet app. It can be found in the app store for iOS, or you can request a download link to be sent directly to your Android phone if you head to theScore Bet website.
Remember, you can download the app and create an account from anywhere, but you'll need to be physically located in New Jersey, Colorado, or Indiana to place a bet.
Once the app is installed on your phone, open it up and hit the "Sign Up" button. There are a number of short steps to fill out, which are as follows:
The first screen requires your full name. You should put it exactly as it appears on your ID, as you'll need to verify your identity later.
Next is your email address. You can also choose whether you want to receive and promotional material.
Next, you'll need to create your username, then hit next and choose your unique password.
The next step involves account security. You'll have to create two security questions and answers. You can also choose your own security settings – if you'd like to be asked one of the questions every time you log in, or if you want to just keep them for backup security. Once you've made your choices, hit next.
On the next screen, you'll need to confirm your email address by typing in a code that theScore sportsbook has sent via email.
Next up is your birthday. One of the t&cs is that you need to be at least 21 years old to legally bet. Click next, and then you'll need to provide your phone number.
On the next screen, you'll need to provide your full home address.
Finally, you need to type in the last four digits of your Social Security Number. This step is for security reasons, as theScore needs to verify your identity. The info won't be shared with any third parties. Once the registration process is complete, theScore will ask you to take a photo of your ID so make sure it matches up with the information you provided.
Before you finish you can choose your gender, confirm that all the info you've provided was accurate and that you accept the terms and conditions.
Compared with other sportsbooks, creating your account with theScore Bet might take a little longer, since the information is broken down into step by step screens. Still, the whole process only took our experts 5 minutes at most.
Security and Gaming Licence
Just like all legal sportsbooks in New Jersey, theScore Bet has received a license from the New Jersey Division of Gaming Enforcement. When legal sports betting came to New Jersey, this organization was tasked with overseeing and regulating all betting companies and protecting the rights of the customer.
The sportsbook holds equivalent licenses from the Indiana Gaming Commission and Colorado Limited Gaming Control Commission.
theScore is a newcomer in the betting world but has been a huge presence in US and Canadian sports for more than a decade. In that time it has cultivated a loyal fan base, signed deals with some top sports organizations, and generally established itself as a trusted and reputable piece of the sporting furniture in the US.
All of your data is protected at theScore Bet, and never shared with unaffiliated third parties. Our experts have no concerns about theScore Bet from a security perspective.
Customer Support
Customer support can be something of an afterthought – it never seems particularly important until it suddenly very much is! Our experts know that effective customer support is the grease on the wheels that keeps everything running, and we always take a close look at it for our reviews.
theScore Bet passes all of our tests with flying colors.
There is a useful list of FAQs with loads of good information, which you can access both through the app and via theScore Bet website. You can also call or email the customer support team.
The best option, however, is the 24/7 Live Chat which you can access directly from the app. It's perfect for getting a quick answer to any question.
Like all US sportsbooks, theScore offers support for players with a gambling problem. If you or someone you know has a gambling problem, visit thescore.bet/rg.
Things theScore Bet is Doing Right
theScore Bet offers something genuinely different in a crowded market in New Jersey, and we are big fans. In Colorado and Indiana, it's a welcome addition to the slightly smaller list of sportsbooks currently in operation.
The decision to focus entirely on a mobile platform is a proactive one – statistics show that more and more players are migrating to mobile betting these days, and it feels like the future of sports betting.
Here are our experts' highlights:
A holistic approach to sports betting. The combination of the media app and the sportsbook app, and the way they overlap and interact, is excellent. They are both very well designed and make researching, browsing and betting one complete experience.
Perfect for beginners. theScore Bet is very easy to use, with a clean design and a simple betting structure. If you are new to betting, this is the perfect mobile app for you.
Excellent bonuses. We love the attention that has gone into the promotions at theScore Bet. The welcome bonus is great, but there are also multiple on-running promotions to keep players engaged and interested.
We love the customer support. Sometimes live chat software doesn't work too well on mobiles, but it's perfect here.
Things theScore Bet Could Work On
Our experts have never conducted a review where they didn't come back with some constructive feedback, and they found a few things of note at theScore Bet.
The list of accepted banking options is small compared with other top sites in NJ. We'd like to see an e-wallet option added.
We love mobile betting, but some people might miss a desktop site. If you don't like the small screen – or you're concerned about battery or space on your device – you might prefer another sportsbook you can access on your laptop.
The range of betting markets and sports is good, but perhaps just outside the very top tier. Also, you can't see the lines until you have signed up and verified your account – which isn't very friendly for players who are thinking about signing up and want to get a sense of the platform before they decide.
theScore Bet Company History
theScore media app was developed in Toronto and launched back in the mid-2000s, as a way for North American sports fans to keep up to date with the latest sports news and betting lines. Over the years the app expanded along with technology and is today used by millions in both the US and Canada as their first stop for staying updated on a variety of sports.
In 2018, when the federal ban on sports betting in the US was removed, theScore didn't need to be asked twice.
The company became the first in the US to announce a mobile sportsbook, which launched the following year. Unlike just about every other sportsbook in New Jersey, theScore Bet does not have a desktop sportsbook. Instead, the company made the decision to focus on integrating a new mobile app with its existing mobile software.
The result is a unique mobile betting experience, which combines news, statistics, and articles with an easy to use betting platform.
The Final Word on theScore Bet
In our expert opinion, the approach theScore Bet has taken is likely to be the direction online sports betting goes in the coming years. Mobile betting is growing all the time, and desktop sites are becoming less important.
We love the combination of both apps, which basically contain absolutely everything you need to keep up to date with, understand, and bet on sports in the modern world.
theScore Bet is extremely well designed – easy to use, perfect for beginners, and also very smooth and visually impressive. We also love the variety of bonuses and promos.
Even though we have no problems with the mobile-only platform, we're happy to acknowledge that some bettors still prefer having the option of a traditional desktop site. No problem, there are plenty of other options in NJ, CO, and IN for them.
We'd also like to see the banking options expanded, and we expect the available betting markets to continue to grow – at the moment they are not quite as deep as some of the other best sites in the US.
Overall though, we feel that the future of sports betting is here. If you want to get in on the ground floor, sign up via our links to claim your welcome bonus today.
Comparison table:
Sportsbook
theScore Bet
FanDuel US
DraftKings
Rating

⭐ 7/10

⭐ 10/10

⭐ 10/10
Bonus
–
$150 Instant Bonus
Bonus
$1000 Deposit Bonus
Top
Features
✔ Perfect for
beginners
✔ Great customer
support
✔ Free play options

✔ Special contests
for newbies

✔ Lots of betting
options✔ Daily odds boost

✔ Great live betting
section

States
License In
Currently licensed
in Colorado, Iowa,
New Jersey and
Indiana.
Currently licensed
in 14 states.
Currently licensed
in 14 states.
Payment
Methods
Visa
Mastercard
ACH Transfers
eCheck
Online Banking
theScore Bet Play+
Cash at the
casino cage
Visa
Mastercard
Discover
PayPal
Google Pay
Apple Pay
FanDuel
prepaid card
E-check
Bank Transfer
PayNearMe
Cheque
Mastercard
Visa
Discover
DraftKings-
gift card
PayPal
Play+
VIP Preferred
e-check
Cash
Wire transfer
Support
24/7
Live Chat
Email
Live Chat
Email
Phone
Live Chat
Email
Call Back feature
theScore Online Sportsbook FAQs