The 2023 MLB season has arrived, which means that a new race to win the Cy Young award has started in both the American and National Leagues. Here, we will analyze the current MLB Cy Young odds at various MLB betting sites, with our MLB experts regularly making their predictions throughout the season.
With our MLB Cy Young predictions, we will show you value betting opportunities in each league's betting markets throughout the season. Instead of going with the conventional wisdom for this award, our analysis will maximize the chances of turning a profit betting on the awards for the best pitcher in each league.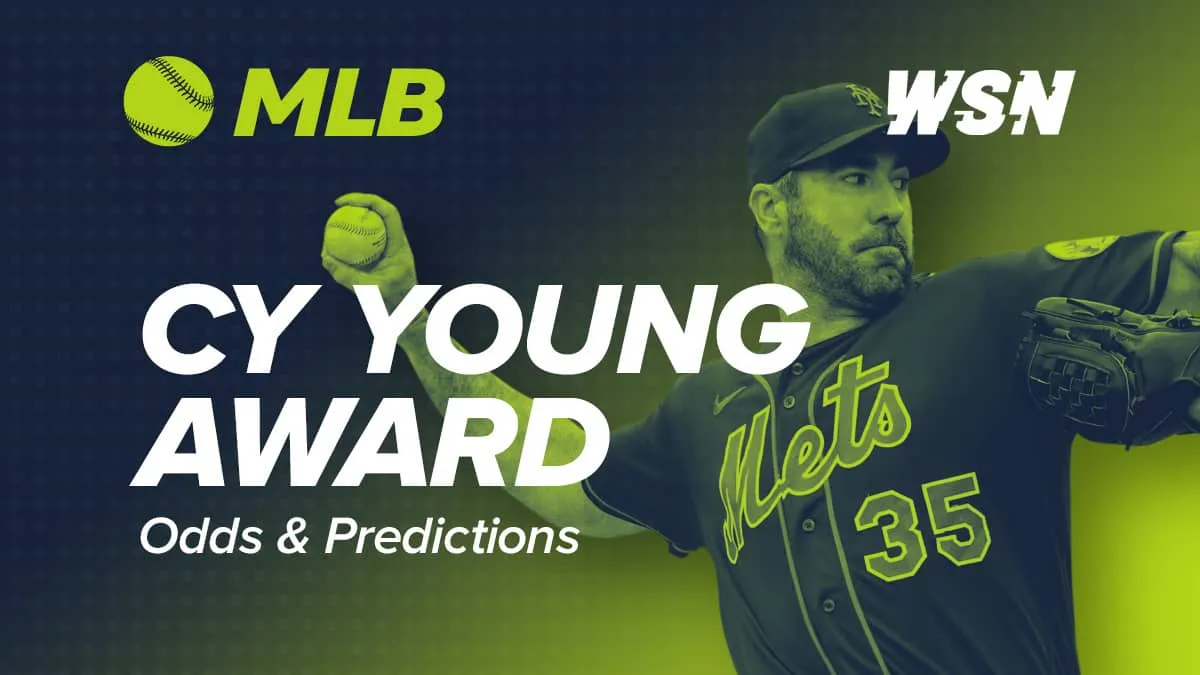 AL Cy Young Odds
Odds courtesy of bet365, correct as of 9/26/23
Player
Odds
Team

Gerrit Cole

-5000
BET HERE

New York Yankees

Luis Castillo

+1400
BET HERE

Seattle Mariners

Sonny Gray

+3500
BET HERE

Minnesota Twins

Framber Valdez

+15000
BET HERE

Houston Astros

Kevin Gausman

+25000
BET HERE

Toronto Blue Jays

George Kirby

+25000
BET HERE

Seattle Mariners

Pablo Lopez

+25000
BET HERE

Minnesota Twins
NL Cy Young Odds
Odds courtesy of bet365, correct as of 9/26/23
Player
Odds
Team

Blake Snell

-5000
BET HERE

San Diego Padres

Justin Steele

+2000
BET HERE

Chicago Cubs

Spencer Strider

+5000
BET HERE

Atlanta Braves

Zac Gallen

+10000
BET HERE

Arizona Diamondbacks

Logan Webb

+10000
BET HERE

San Francisco Giants

Kodai Senga

+10000
BET HERE

New York Mets

Zack Wheeler

+30000
BET HERE

Philadelphia Phillies

Clayton Kershaw

+30000
BET HERE

Los Angeles Dodgers

Corbin Burnes

+30000
BET HERE

Milwaukee Brewers
When betting on your MLB Cy Young predictions throughout the 2023 season, bettors will want to take advantage of the many MLB sportsbook promotions that are up for grabs. This includes the 20% deposit bonus worth up to $1,000 at DraftKings Sportsbook. Those bonus funds can be used to wager on this award at a nice plus price before having to risk any money of your own.
Also worth taking advantage of when betting on Cy Young futures is the $1,000 no-sweat first bet promotion from FanDuel Sportsbook. That offer lets bettors place their first wager on Cy Young futures, with the ability to receive $1,000 in site credit back if that first wager does not win. That peace of mind can really come in handy given the unpredictability of a full MLB season.
AL Cy Young Odds Analysis & Predictions
The AL Cy Young race is just about over at this point in time, as Gerrit Cole has run away with the competition. He is a -5000 favorite to come away with the award, as the regular season nears its end in 2023. Based on his body of work this season, it would take an immense upset in the voting for this award for anyone else to come away with it.
This year, Cole has lost just four times and has one of the best ERAs in the league. While none of that was enough to propel the New York Yankees into the postseason, Cole certainly did his part for a franchise that did not live up to the hype around him. Cole is likely to be rewarded individually for his efforts, though, in a silver lining for what has been a disappointing all-around campaign in the Bronx.
There are only two other pitchers inside of +5000 odds to win this honor, with those being Luis Castillo of the Seattle Mariners and Sonny Gray of the Minnesota Twins. Both of those men have had excellent seasons of their own. However, they have not quite had the same season that Cole has had in terms of sheer quality, as they will not be making a late charge to steal this hardware from the Yankees ace.
While his odds don't carry a ton of value at this juncture, Gerrit Cole is still the right choice to win the AL Cy Young award. He has been the best thing about a Yankees team that has been a huge disappointment all season long. Barring a late-season meltdown, it should be Cole who claims this award and brings at least one trophy back to New York for the year.
NL Cy Young Odds Analysis & Predictions
The National League Cy Young award odds have completely shifted from where they were at the start of the 2023 MLB season. Last year's unanimous Cy Young award winner, Sandy Alcantara, had a disastrous season, paving the way for several new contenders to have a chance to win this award. But this race is also all but over, thanks to the incredible pitching of Blake Snell.
Snell has taken back the honor of leading the league in ERA from Justin Steele of the Chicago Cubs. Despite being a .500 pitcher for the first half of the season, Snell has managed to win 14 games this year for a disappointing Padres team overall. Just like with Cole, Snell should be honored individually despite the shortcomings of his team.
The aforementioned Steele is the only other pitcher being given much of a chance to win this award in the National League in 2023. He has almost singlehandedly kept the starting rotation of the Cubs afloat this season, even after Marcus Stroman went down with an injury. While Steele may end up falling just short in the race for this award, he has nothing to be ashamed of this year.
After Snell and Steele, nobody is close to remaining in the race for the NL Cy Young. Pitchers like Zac Gallen and Spencer Strider were favorites to win the award earlier in the season, but they have completely fizzled out in their attempts to win it. Instead, it looks like Snell and Steele are the only two pitchers with a reasonable shot to get it done still.
For now, it feels like this award is Blake Snell's to lose in the National League. The fact that he has led the league in ERA for much of the second half of the season and that he is doing his best pitching late in the season should impress plenty of voters for this award.
How To Read MLB Cy Young Odds
To read MLB Cy Young odds is easy to get used to, even for new sports bettors. The first thing to remember is that Cy Young odds are broken up by league, meaning there are AL Cy Young odds and NL Cy Young odds kept separate from one another.
In terms of understanding what the numbers next to each pitcher's name mean, the first thing a bettor should look for is whether those numbers start with a plus sign or a minus sign. With plus prices, the numbers next to the plus sign represent the amount a bettor will win if they wager $100 on that pitcher and they claim the Cy Young for their league. Conversely, odds that begin with a minus sign signify the amount a bettor needs to risk in order to win $100.
For example, odds of +1000 indicate that a $100 wager on that pitcher would yield a $1,000 payout if that pitcher won this award. Or, if a pitcher has odds of -200, they would need to wager $200 in order to win a profit of $100 if that pitcher got the job done. For an easy way to calculate potential payouts, bettors can use our odds calculator.
It is worth noting that MLB Cy Young odds change constantly throughout the season based on how each pitcher is performing. Bettors should keep an eye on these odds regularly to look for the best prices they can find on each option.
Previous MLB Cy Young Winners
Previous AL Cy Young Winners
| | | |
| --- | --- | --- |
| Year | Player | Team |
| 2022 | Justin Verlander | Houston Astros |
| 2021 | Robbie Ray | Toronto Blue Jays |
| 2020 | Shane Bieber | Cleveland Indians |
| 2019 | Justin Verlander | Houston Astros |
| 2018 | Blake Snell | Tampa Bay Rays |
| 2017 | Corey Kluber | Cleveland Indians |
| 2016 | Rick Porcello | Boston Red Sox |
| 2015 | Dallas Keuchel | Houston Astros |
| 2014 | Corey Kluber | Cleveland Indians |
| 2013 | Max Scherzer | Detroit Tigers |
Previous NL Cy Young Winners
| | | |
| --- | --- | --- |
| Year | Player | Team |
| 2022 | Sandy Alcantara | Miami Marlins |
| 2021 | Corbin Burnes | Milwaukee Brewers |
| 2020 | Trevor Bauer | Cincinnati Reds |
| 2019 | Jacob deGrom | New York Mets |
| 2018 | Jacob deGrom | New York Mets |
| 2017 | Max Scherzer | Washington Nationals |
| 2016 | Max Scherzer | Washington Nationals |
| 2015 | Jake Arrieta | Chicago Cubs |
| 2014 | Clayton Kershaw | Los Angeles Dodgers |
| 2013 | Clayton Kershaw | Los Angeles Dodgers |