Chris Cook might not be a household name among casual NASCAR fans, he's definitely well known inside the industry and by anyone who takes the sport seriously.
While Cook's career on the actual NASCAR circuit has been sparse, he's made a name for himself by teaching some of the best drivers in the world. In fact, Chris Cook became a professional driving instructor at a very young age.
Some of his pupils include Tony Stewart, Joey Logano, and Paul Menard.
In this racing profile, we'll delve into the fascinating career of Chris Cook including his bio, racing highlights and lots more.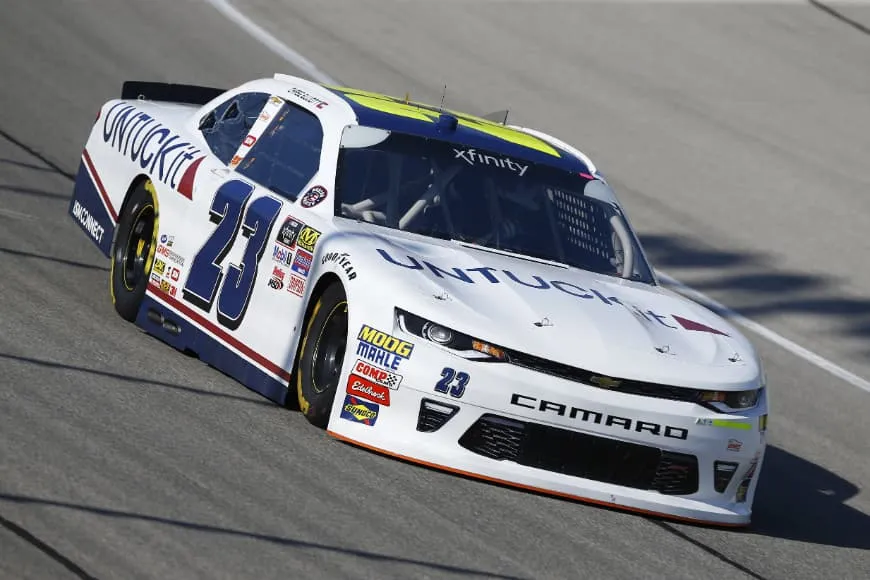 Fast Facts:
Full name: Christopher Cook
Hometown: Phoenix, Arizona
Date of birth: December 23rd, 1971
Youngest ever Chief Instructor at Bob Bondurant Racing School
Rarely competes in Cup Series racing
Holds licenses to race in FIA, Sports Car, SCCA Pro, Grand Am and the Motorola Cup
Notable Results:
First NASCAR race in 1999: Xfinity Busch Series at Watkins Glen (finished 39th)
Best Xfinity finish: 20th place at Telcel Motorola in 2006
Highest Formula D (drift racing) finish: 7th place at Wall in 2007
First Sprint Cup series race: 28th place at Dodge/Save Mart 250 (2005)
Best Sprint Cup finish: 27th place at Sonoma Raceway (June, 2011)
Chris Cook Bio
Even though Chris Cook doesn't have a huge list of races or results – even though some rookies have more races in NASCAR than him – he's been closely involved in the sport for a long time.
Cook made his NASCAR racing debut in 1999 in what is now the Xfinity Series. Despite his sporadic appearances in the circuit, he's still competed in races as recently as 2018.
That makes Cook an almost 20-year veteran in NASCAR.
His favorite track to race on is unofficially Sonoma, located in Northern California. Four of his six career races at the Cup Series level have been at Sonoma, which is where he enjoyed his career-best 27th place finish (jumping up from 42nd at the start of the race).
Cook has also dabbled in the Formula D circuit, where he's competed in three races. One was a victory, but one was also the sight of one of the most horrific crashes in the sport's history. Cook flipped his Dodge Viper and was knocked unconscious, although he ended up making a full recovery.
Cook's Main Calling: Teaching the World's Best Drivers
While Cook hasn't been a mainstay on the NASCAR circuit, he has been a mainstay in the world of racing for more than two decades for other reasons.
Holding licenses in a number of different racing leagues, including FIA, Sports Car, SCCA Pro, Grand Am and Motorola Cup, Cook is well-equipped to teach drivers of all skill sets.
The list of his past students includes elite drivers Tony Stewart, Joey Logano, Clint Bowyer, David Reutimann, AJ Allmendinger and Paul Menard.
Cook was applauded for his ability to teach from an early age. In 2002, he was the youngest Chief Instructor to join the Bob Bondurant Racing School.
Now, Cook runs his own company, Chris Cook Performance. His courses can range from $500 per hour for enthusiasts to $10,000 per day for professional drivers.
Cook is also known for being honest in his critique of the business of professional racing. In a 2002 interview he said:
"I wish racing were based on a performance evaluation only. Not coming from a racing background or receiving personal family backing, one has to try and create opportunity in order to boost your career.
"Getting behind the wheel requires big money and when you don't have that backing, you have to prove yourself whenever possible. It's not like I'm not trying, but NASCAR is just so hard to break into."
Thankfully for Cook, he was able to forge his own career path, and now is firmly entrenched with the reputation of being one of the best racing instructors in America.