Gap between Cup "haves" and "have-nots" has widened entering the elimination race.
Close race for final Xfinity Series Playoff spots will be decided at Martinsville.
GMS Racing is likely to place three drivers in NASCAR Truck Series final four.
The race started on Sunday afternoon. It finished on Wednesday night under the lights after three delays because of the weather. When the checkered flag finally flew, driver Kyle Busch was the winner, extending to 16 straight years a streak he prizes—winning at least one race per year, starting with his 2005 rookie season.
Because the race concluded on Wednesday this weekend's schedule for Martinsville Speedway remains intact. All three of the top touring series will hold Round of 8 elimination races at the .526-mile short track, starting with the NASCAR Gander RV & Outdoors Truck Series on Friday night.
The NASCAR Xfinity Series will decide its Championship 4 drivers on Saturday, followed by the NASCAR Cup Series elimination race on Sunday. The top four drivers in each series will then race for their respective championships on Nov. 8 at Phoenix Raceway.
Gap Widens around NASCAR Cup Series Cut Line in Texas Playoff Race
When Kyle Busch won the Autotrader EchoPark Automotive 500 on Wednesday night at Texas Motor Speedway, Kevin Harvick, Denny Hamlin and Brad Keselowski breathed a collective sigh of relief. Busch, the reigning NASCAR Cup Series champion, had been eliminated from the Playoff in the previous round, and by holding off runner-up Martin Truex Jr., Busch prevented Truex from securing a spot in the Championship 4 race—for the time being.
Busch's win guarantees that at least two positions in the championship race will be determined by points. Entering Sunday's Xfinity 500 at Martinsville, Harvick tops the standings, 42 points above the Playoff cut line. Hamlin is 27 points clear of Hendrick Motorsports teammates Chase Elliott and Alex Bowman, the top two drivers below the current cutoff. Keselowski is 25 points ahead of Elliott and Bowman.
Truex and Kurt Busch are even further behind, 36 and 81 points below the cut line, respectively. Kurt Busch needs a Martinsville victory to join Kansas winner Joey Logano in the Championship 4. Truex almost surely needs a win, too, but that's not far-fetched. Truex has won the last two Cup races at the paper-clip-shaped track, and he's the betting favorite at +325.
How to Watch Xfinity 500
Xfinity 500 Information
What
Xfinity 500 NASCAR Cup Series race
Where
Martinsville Speedway
When
Sunday, Nov. 1, 2 p.m. EST
How to Watch
NBC
Tight Race for Final Xfinity Series Playoff Spots to Be Decided at Martinsville
Chase Briscoe is the only NASCAR Xfinity Series driver with a security blanket. Thanks to his victory in the Round of 8 openers at Kansas Speedway, Briscoe knows he will race for the series championship on Nov. 8 at Phoenix Raceway. No other driver has a Championship 4 spot, and at Texas, the battle for those positions tightened considerably around the bubble.
Austin Cindric, Justin Allgaier and Justin Haley currently occupy the three other Playoff-eligible positions, but Cindric is just 14 points ahead of fifth-place Brandon Jones and 25 clear of sixth-place Ross Chastain. Allgaier is only eight points ahead of Jones, and Haley is just four points above the cut line.
At least two drivers will qualify for the Championship 4 on points, but Allgaier may have another path to the title race. He's the co-favorite to win at Martinsville, where the Xfinity Series hasn't raced since a one-off appearance in 2006. The same is true for Cindric listed at +350 (DraftKings Sportsbook) along with Allgaier and Briscoe. Take your pick.
How to Watch Draft Top 250
Draft Top 250 Information
What
Draft Top 250 NASCAR Xfinity Series race
Where
Martinsville Speedway
When
Saturday, Oct. 31, 3:30 p.m. EST
How to Watch
NBC
Will GMS Racing Place Three Drivers in the Final Four? Looks That Way
Brett Moffitt earned a spot in the NASCAR Gander RV & Outdoors Championship 4 race with a victory at Kansas Speedway. Last Saturday at Texas, GMS Racing teammate Sheldon Creed joined him with a victory at the Fort Worth track.
A third GMS Racing driver, Zane Smith also is in a Playoff-eligible position entering Friday night's elimination event at Martinsville. Smith holds a 12-point edge over three-time series champion Matt Crafton, the first driver below the current cutoff.
A fourth GMS driver has an outside shot to join the party at Phoenix Raceway. Eighth in the standings, Tyler Ankrum could steal a berth in the title race with a win at Martinsville. In three starts at the venerable short track, however, Ankrum has a best finish of 18th. Moffitt, on the other hand is the favorite to win the NASCAR Hall of Fame 200 at +350.
How to Watch NASCAR Hall of Fame 200
NASCAR Hall of Fame 200 Information
What
NASCAR Hall of Fame 200 NASCAR Truck Series race
Where
Martinsville Speedway
When
Friday, Oct. 30, 8 p.m. EST
How to Watch
FS1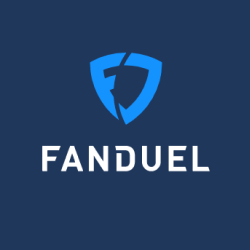 Get a deposit bonus up to $500!
Sign up at FanDuel and receive a 20% deposit bonus up to $500
Play Now
Sign up at FanDuel and receive a 20% deposit bonus up to $500
More NASCAR Predictions & Odds
Alsco Uniforms 300 (Xfinity Series) Predictions & Picks
Austin Cindric looks to build on his Xfinity Series dominance in the Alsco Uniforms 300 at Las Vegas Motor Speedway. Our analysis is here.
NASCAR
6 March | 05:44 | Reid Spencer
Bucked Up 200 (Camping World Truck Series) Predictions & Picks
After two straight wins to open the season, why isn't Ben Rhodes getting respect from oddsmakers in the Las Vegas Truck Series race? The answer is here.
NASCAR
5 March | 04:30 | Reid Spencer
Dixie Vodka 400 (Cup Series) Predictions & Picks
The NASCAR Cup Series returns to one of its staple speedways—Homestead-Miami—and Denny Hamlin is the favorite. Is he worth a bet? Read here for our analysis.
NASCAR
28 February | 03:13 | Reid Spencer
Reid Spencer
Award-winning motorsports writer Reid Spencer has served as lead writer for the NASCAR Wire Service for 16 years, having also spent a four-year stint as NASCAR columnist and beat writer for Sporting News. He is currently serving as president of the National Motorsports Press Association.
Email: [email protected]